We have been off Westerdam on our first cruise aboard a HAL ship since 2008 for about a week as I write this. In our new roles as travel consultants with Expedia Cruise Ship Centers we were invited on this familiarization (FAM) cruise in late April/early May 2018.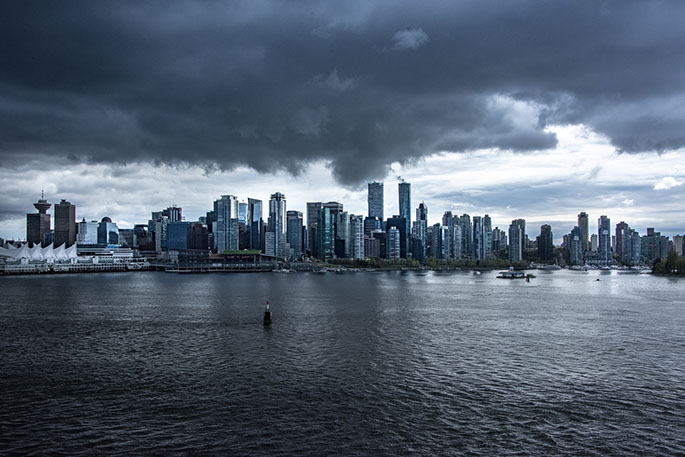 The FAM part of the cruise was a hello cocktail party, three 2 hour plus classes, a dinner together at Pinnacle Grille and a farewell cocktail party, plus some other out-of-class bonding.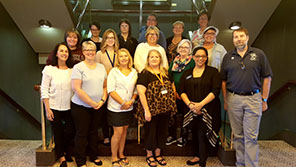 Here's our FAM group. We were the only Americans. Everyone else was a Canadian and I was the only man in the group. Fun!
But the real reason we were on the cruise was to see if we could and would recommend to our clients that they book Holland America to Alaska. Well after a week, the answer is a resounding YES with only one major reservation.


Our one reservation
The service in the main dining room (and to some extent, the buffet) is HORRID! It's not the individual servers, but the systems.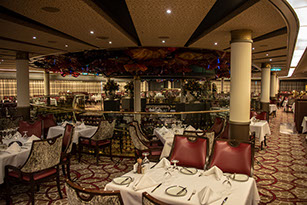 Some examples:
At dinner every night (we love to eat in the dining room to meet new folks) it took forever to get food once our orders had been taken. By forever, I mean 30 to 45 minutes between appetizers and entrée. That's too long.
We noticed that while on other cruise lines, servers would bring a tray of plates to place on a folding stand near our table and then serve from that stand right to the table. On HAL, servers would bring individual dishes from quite a ways away (we couldn't see where they got it from—it was that far away). What this meant was that when our server brought food for two out of the six of us, he had to then disappear to get the next two and then the next two. Which meant that those who got their food first, either ate cold food or were rude and started eating a good 10 minutes before everyone else at the table.
We ate breakfast in the main dining room three times because the food was outstanding…when it got there. On one morning at a table for six, it took 30 minutes to get any food and when it arrived, my order was wrong so our server had to reorder it. I told everyone else to eat, which they did immediately but their food was still cold. Mine arrived warm. I guess it pays to have your order wrong.
On disembarkation day, the dining room opened at 6:30. Since we didn't have to be off the ship until 8:50 we thought this was great. We were at a table for six with a couple from Japan and a nice couple from Australia who had to be off the ship for an excursion at 8:00. We ordered within 10 minutes of sitting down at 6:40. And we still didn't have our food at 7:30. 7:30! We finally flagged down a maitre'd and he said he would expedite our orders. Within 10 minutes, our orders arrived as did those of the Japanese couple (who were not the ones about to miss breakfast to make their tour and then be dropped at the airport). A full five minutes later, the Australian couples food arrived. Three pancakes each! Seriously.
The reason I am still willing to give HAL a high grade in Alaska is that the main dining room is a fixable problem. They just need someone to step in and fix their systems.
Now on to the good stuff that we loved!

Our stateroom
We were in 4145, a balcony stateroom on deck 4. Loved being there near the stairs/elevator. Good stuff in the cabin included:
The most amazing water pressure ever.
So much hot water. So much. I took two showers a day because it felt so good.
Great beds, lots of good storage and the most unbelievable 4K TV I have ever seen in a ship stateroom or a hotel room for that matter.
Kathleen loved the fact that it is a bathtub and not a shower stall. I honestly didn't care.
The plethora of USB plugs around the cabin. Not only where there three charging plugs on the desk, there was one on either side of the bed. I had brought a plug strip but by the third day, I wasn't using it anymore. I also love having light switches on both sides of the bed so that either of us could turn them on and off and a reading light.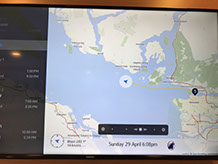 Let's talk about that TV
I know, we were on a cruise…but there were two sea days and other down time. And since HAL has a partnership with BBC Earth, the programming on the TV was amazing. As Kathleen will tell you, I am not a big nature doc fan but these were AWESOME (I now owe Bob $1) as was the huge selection of FREE movies available. There were great films that were just out of theaters as well as a bunch of classics. They did have a hard time getting them categorized correctly but they were still good. And the navigation map is awesome. with five different levels of magnification.
A note about laundry
We didn't use the laundry as we were coming right from home. HAL does not have self-serve laundries on their ships but they do have something others told us about: $49.95 for UNLIMITED laundry cleaned and pressed on a seven day cruise. OMG! We were shocked. Some of our fellow travel consultants had been in Vancouver for a week or more and needed laundry done and what a great value for them.
HAL's outstanding web app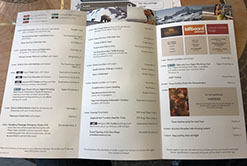 HAL has an OUTSTANDING web app that you can add to your phone in your browser just by logging into their WiFi network—at no charge—which allowed us to see the daily program on the ship, our onboard account, the menus in the dining room and specialty restaurants. You could also book spa reservations, specialty restaurant reservations and more. And we were thrilled to see we could keep up with the news since HAL gave us the NY Times free. That's better than we can get at home. Not only that, but the app gave us free chat with each other and anyone else we exchanged numbers with.
I also want to add that the daily announcements that you found in your room each night were the best I have ever seen, graphically speaking. Easy and a joy to read (that's the graphic designer in me talking).
The entertainment is outstanding including:
The BB King Blues Club

where we stopped by every night it was open (5 out of 7 nights). That band was hot. Three shows a night with a 15 minute break between them. People danced, clapped and just loved the experience. If we had a free blues (and soul and rock and more) club like this in our town, we would go every night.

The Billboard Onboard

dueling pianos. Pretty good stuff, just not as good as the BB King Blues Club but that might just be a matter of taste. We stopped by a couple of nights and liked what we heard.

Lincoln Center Stage

is a series of classical concert performances that happened most nights and some afternoons on board. They were well attended and we walked by and saw quite a few of them but once we had gone to the Blues club we never went back. Shame on us as everyone who did said it was excellent.
We went to two main stage shows in the big showroom. One was a comedian who was moderately funny. The ship also had two big showcase type shows (singers, dancers, etc.) and we skipped those. We have lost interest as they tend to me the same on every cruise.
The other main stage show we went to besides the comedian was worth the entire cruise to me. I would go back and I would recommend HAL just for this show. HAL and their musicians as well as the musicians from the Lincoln Center Stage combined on stage to play some original orchestral music while an incredible video screen behind the musicians showed a series of Alaska films created by BBC Earth. Combining these two amazing groups (the musicians and BBC Earth) at the end of the day when we had been to the incredible Glacier Bay is what an Alaskan cruise is all about. One other thing about this show: HAL, do this show multiple times. We would have gone again and others missed it. Maybe in the afternoon if there isn't a problem with musical rights.
Canaletto Italian restaurant was very good.
It's the ship's "other" specialty restaurant and is located (only at night) in one section of the buffet. There is an extra charge ($15) and we felt it was well worth it. The service was excellent (if a little hovering) and the food was superb. They recommend that everyone at the table order an appetizer and then share a pasta and an entrée for each two people. The food is served family style so you pass the plates. We wish we had gone with four other people to try even more items. What we had was outstanding.
Other food venues
We ate most lunches and three breakfasts in the buffet and it was crowded and sometimes entire sections would close at the strangest times but there was always plenty to eat any time you wanted it.
The burger/hot dog bar called Dive-In needs work on their systems as well. Food was outstanding but I should NOT have to wait 30 minutes for a hamburger or hotdog. They also supervise the Mexican food/nacho bar near the pool which was just fine.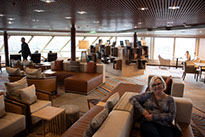 EXC–Shore Destinations
HAL is now doing some amazing things with their destination talks/tours, etc. They call it EXC (Explorations Central) and it is centered in the former Crow's Nest on deck 10 at the front of the ship. HAL has installed some pretty incredible interactive screens that you can use to plan your (independent) tours at your destinations. It is fully staffed much of the day either by EXC specialists or the ship's naturalist (a very fine fellow). HAL seems to be all about experiences and this new EXC set up is outstanding.
Summing up
First, this was our sixth cruise to Alaska and three of those were from Seattle and three (including this one) were from Vancouver. We will never sail to see Alaska from Seattle again. What I mean by that is that next summer if we go to Alaska on RCL we will sail from Seattle because that cruise will all be about the ship (taking the grandkids) one of RCL's big ones but if you want the real Alaska experience, sail out of Vancouver.
Why? The biggest reason is that when you leave Seattle and get to the Straits of Juan de Fuca (between Victoria and Port Angeles) you take a hard left turn and head out to sea and that means that on your sea day getting to Alaska and getting back you are truly at SEA! You can only see land far in the distance.
On the other hand, when you leave from Vancouver, those first and last sea days are spent in the glorious Canadian Inside Passage. Don't get me wrong. All Alaskan cruises go through the Alaskan Inside Passage but that's not until the ship gets all the way up to Alaska. And in the Canadian Inside Passage, the weather is always better. We had so much sunshine coming back, people were actually laying by the pool…in early May! And all the way we were in a narrow channel with small Canadian towns slipping by us as well as lots of incredible mountains on either side.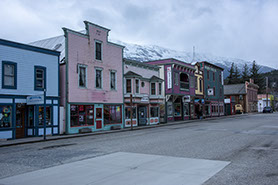 Another reason to choose Vancouver is that with the Jones Act in full force, every Seattle ship has to stop for a few hours in Victoria to make sure they stop in a foreign port. That means that the only ship sailing near us, the Norwegian Pearl (which had sailed from Seattle) had less time in every port than we did. They had to leave each port earlier so they could be on time to stop in Victoria from 6:00 pm to 11:00 pm on the last night of their cruise. Not enough time to even really see Victoria but required by law. For that reason when we have sailed out of Seattle, we have always felt like we were rushing.
One more thing. To see the real Alaska, go early in the season. We were in Skagway last year in June when four ships were in port. It was slammed. You could barely walk on the sidewalks. See the pic above, no one. not a soul on the street. We were able to walk into shops and actually talk to the owners. Wonderful.
And lastly, we have discovered that it is wonderful to be on the first cruise of the Alaskan season. Why? Because we were one of two ships in Alaska that week which meant that unlike when we had been here in summer 2017, we were able to walk on the sidewalks in Skagway and get lunch without waiting at the brewery. It was heavenly. It was like Alaska used to be back when we first were here on the original Westerdam in 2000.