I wanted to finish our trip in a cool kind of place where we could celebrate Kathleen's 65th birthday in style. So off we went to the home of the 2002 Winter Olympics and the Sundance Film Fesival, Park City—our final destination.
We woke up and grabbed that quick breakfast at Ruby's restaurant in Bryce and headed out to the back roads of Utah to find Park City without driving on a freeway (OK, we did for a short distance, but not too far).
We often try to make the last couple of days of any trip more relaxing. So this was Thursday morning and we were flying home on Saturday which meant Thursday was about driving and Friday was about just resting and goofing around. Plus, Friday was Kathleen's birthday so I had planned to take her someplace she would really love—a distillery.
But first, more about the trip. We drove north on Utah 89 through some great little towns like Panguitch, Spry, Circleville (where we saw the Butch Cassidy Home), Junction (yup, just Junction), Alunite, Marysvale and the Utah version of our hometown—Redmond, Utah. Further north than Redmond we went through Gunnison, Manti, Ephraim, Mt. Pleasant, Fairview, Birdseye and Thistle. The trip was all about small towns and dusty highways. When we finally got close to Park City the GPS decided we needed to see some real back roads so the last 10 miles or so were on Utah 224 over a mountain where we went from 5,000 feet to almost 10,000 feet in less than that. The road is closed in winter but no snow on the roadway itself when we were there. It was one of the roads where you keep hoping your GPS is correct and it isn't about to take you off the side of a mountain. I honestly think if we hadn't seen other cars on the mountain, we would have turned back. But we eventually got there and found our home for the next two nights.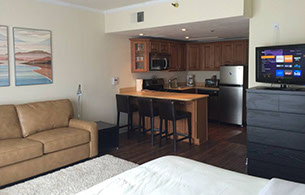 We had done an AirBnB again and this place was great in so many ways but we only gave it four stars out of five when we reviewed it. First, the location is outstanding. Right on Main Street in downtown. And it has two things I REALLY LOVE in any lodging—superb water pressure and tons of hot water. It is also incredibly clean and well appointed.
So why didn't we give it five stars? It's the heat. In October! The building (according to what our host told us) was an old school building and there is a main heat source for the entire building. The heat (and I assume the cool in the summer) comes from a center source and it is way too hot. It was down to 28 degrees outside and we had to have the sliding glass door open and a fan blowing in the 28 degree air in order to sleep. That's just unacceptable. We would not have stayed there if we had known that this was the case. Our host is aware of the problem as he told us how to fix the problem with the fan. He has also installed a wall fan to help but the temp in there when we got back from dinner on our first night in town had to be in excess of eighty degrees.
Our only other complaint was the info our host sent us pre-visit. As you all know, we were touring Utah in a car before we finished a week on the road in Park City. On Tuesday while in Zion National Park we got what I expected to be a short e-mail telling us how to check in. Instead it was 19 pages of info in e-mail and PDF format. That's just too much. And the entry codes for the door were buried in one of the PDFs. Our host had sent us his entire house rules and directions manual that was already printed and in the unit. So if you rent the place (because it is really nice) don't be freaked out by getting that many pages of info days before you are set to arrive. The photo is the building our unit was in—dead center on Main Street.
After getting checked in, we walked right out our front door and went walking around town. We loved being right in the center of things. It was the best part of the place.
Of course dinner time rolled around and we already had reservations for both nights at two restaurants owned by the same guy. Bill White is kind of the Tom Douglas (my favorite Seattle restaurateur) of Park City. He owns six places and two of them were featured pretty prominently on a superb food Utah food blog I kept going back to for recommendations, Female Foodie. If you are going to Utah, make sure and check this site out before you go.
We ate the first night at Bill's Italian place, Grappa. The food was fine, the drinks were fine, the service was fine (except for our server brought me caffeinated coffee when I ordered decaffeinated and I was up all night). But saying all that, it was just fine. Fine and expensive. When I spend $250+ for two people (two drinks, two appies, two entrées, two desserts, two glasses of wine) I expect a lot better than just fine.
My pasta (the bolognese) was dry. Kathleen liked her pork entrée though. I should have sent mine back. The ambiance was nice but the place around the edges was kind of dodgy. For instance when we were seated the hostess (who was really nice) asked me to wait a minute before sitting down so she could turn down the baseboard heater that was behind my chair. To do that she had to take off some duct tape (that was FILTHY) and get into the heater and then tape it back up again. Everything in the place seemed just a little dingy. Maybe it was just where we were sitting in the front window. Or maybe I just feel that when spend that kind of money, you should have a better experience.
After dinner we walked around town some more (I should say that both of us were really feeling the altitude at this point. Park city is at 7,000 feet and getting anyplace on foot can be a climb either getting there or coming back.) and then headed back to a decent night's sleep (with the door open and a fan blowing in the 28 degree air from outside).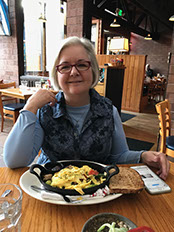 The next morning we had breakfast at an awesome place called The Eating Establishment. Kathleen had seen their menu online the night before after we had walked past them coming back from Grappa. Breakfast was superb! In fact we liked it so much we went back on Saturday morning as well. Great service, great food and easy to get to. Crowded on Saturday but empty on Friday. The pic is Kathleen having her birthday breakfast there.
After breakfast we were off to see the sights of Park City which included the Olympic Village from 2002 which is now quite the sports complex. See my Park City pics on Flickr for lots of shots. Within a block or so we found an outlet mall that ate up a little more of our time before we were off to the High West Distillery in tiny Wanship, UT about 15 minutes from Park City.
Who but the Bellomos would go for a distillery tour in the state with the craziest liquor laws in the U.S.—but we did. Kathleen (and I) loves her whiskey, rye and scotch so this was a great outing for her birthday. We had booked a tour about two months in advance as they only do four a day and only take six people on each tour. Our tour guide as a great guy who really knew both his history (of Utah) and his distilling. We also got to meet the head distiller and walk through the entire place. I can say that the tour was much better and more informative than the scotch distillery we had toured in Scotland last summer. The tour runs about an hour and is free but you HAVE to HAVE reservations.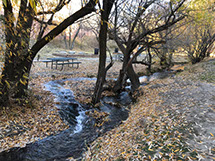 After our tour and a few purchases to take home we headed back (via back roads again) to our condo for a nap. I also decided that since I had not taken a long walk or done any exercise since Zion, I needed to get out and walk, which I did while Kathleen held down the fort. 2.5 miles out and 2.5 miles back along the Poison Creek Trail. A beautiful trail and not aptly named. And the weather was beautiful as well. In fact it was pretty much gorgeous the entire week. Thanks Mother Nature!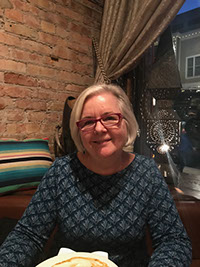 Kathleen's birthday dinner that night was at Bill White's Southwest place, Chimayo. After the dinner we had at Grappa I was a little worried but I shouldn't have been. Chimayo was AWESOME! From the moment we sat down, everything went perfect. We got a primo table, a super server, our margaritas were to die for, my appetizer (an incredible ceviché) was perfect. Kathleen raved about her tortilla soup. All the food is pictured at right because it was so damn good. When our server heard me wish Kathleen a happy birthday, she took it upon herself to make sure we had a special dessert that was on the house. The manager even came by to check on us. Oops, I forgot to mention the main course which were also DELICIOUS! I had elk and Kathleen had the halibut. Go look at their menu on their website and tell me you don't want to eat there now. If you ever go to Park City, this is the place to eat. I can't remember when I last felt so full. And it was just about the same $$$ as Grappa but so much better. This is what a meal that costs that much should be like. One I will remember for quite a while.
Believe it or not, that's about it. After dinner it was off to bed, up in the morning to get breakfast again at The Eating Establishment and then a quick walk around town and off to the airport for our flight home (which was uneventful except for the ONLY bathrooms in our entire terminal being closed and we had to walk quite a ways just to use the restroom.)
We had a great time in Utah but I don't think we will ever go back. Maybe to the parks to see the rest of them but certainly not to Salt Lake City...although I might go back to Park City just for Chimayo. If you decide to go yourself, please feel free to e-mail me with questions. Click the link below.