We were truly impressed with Zion. The way out was even better than the way in and we were blown away by Bryce.
After a quick breakfast at a new place (Meme's Cafe) where the service was great but the breakfast only so-so (they pretty much just sell crêpes and they are big, thick crêpes—we would not recommend them), we hit Utah Highway 9 taking the Zion-Mount Carmel Hwy towards Bryce Canyon National Park. We would be going back north without the freeway.
Going out was almost like driving in or when we had gone through the Kolub Canyons area. Every time we turned a corner, we would see another viewpoint and every time we saw a viewpoint I wanted to stop and take pictures. The road turns into a number of switchbacks as it works its way up and out of the main part of Zion.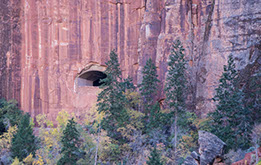 That's what you get first. Then you hit the Zion-Mt. Carmel tunnel. It is a 1.1 mile long tunnel that seems to be about 10.1 miles long. Part of the reason is that there are NO LIGHTS inside. There are a few holes cut in the rock (that's what you can see in this pic) to act as windows to bring some light in but it is DARK! It is two lanes (one in each direction) but if you are in a truck, bus or big RV, you have to go through when no on is coming the other way. Which we did because the first car in line on the other side was a bus. So we were first in line our side and they sent us through. It was very strange and eerie to be traveling through a pitch black tunnel that never seemed to end. Click here to see my pics from leaving Zion.
After we were out of the tunnel it was pretty much the same thing; turn a corner, see an incredible site, stop in the next viewpoint to take a picture. We did that for at least an hour before things leveled out and we were on our way through some very beautiful back country. We followed Hwy 9 until it ended and then we drove north on Hwy. 89. About halfway to where we would turn right for Bryce, we saw a sign for Cedar Breaks National Monument. In all the pre-trip research I had done, I had never seen that one and I certainly didn't expect to drive right by it. So Kathleen grabbed the AAA Tour Book to find out what it was. Cedar Breaks was described as a miniature version of Bryce. And it was only 20 minutes off the highway from where we were. Sticking to our plan of following our whimsy, there was no choice. We were going there.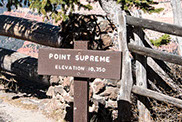 We didn't realize that we would then drive from about 6,000 feet elevation to more than 10,000 feet to get there. But it was beautiful side trip and we recommend it highly. Lots of cool stuff to take pictures of along the way and than an amazing, almost preview of what we would see later in Bryce Canyon.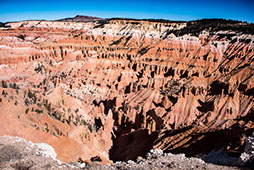 We didn't stop for pics at all on the way up because we knew we would be heading back directly down the mountain on the same road and would stop for pictures then. Again, I have to say that my photos just don't do justice to the natural beauty but you can see my Cedar Breaks photos by clicking here.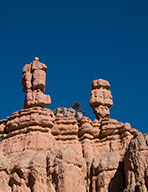 After our side trip to Cedar Breaks, it was back on the road to Zion. Again, we hoped to get there around 2:00 and drive through to see the sites and possibly go back the next morning if something was worth going back for. Coming into Bryce was like coming into Zion. More than 20 miles away we started seeing hoodoos and drive-thru size holes in the rocks. And they were beautiful, red rocks. Would have done Sedona proud. BTW: If you don't know what a hoodoo is, here's a photo of one. They are the sandstone rock formations you can see in the photo at left.
They way you drive into the park, you see a couple of these and they really blow you away. Then you see a few more and you are more impressed. Then the highway takes the road through a hole in one of the huge pieces of sandstone and you are sure you must be in Bryce but you aren't. In fact, Bryce is about 15 miles further on which we proceeded to drive...stopping constantly for pics.
Before we went to tour the park we stopped at our hotel for the night, The Best Western Plus Ruby's Inn. It is important to note that Ruby pretty much owns everything in Bryce. If you don't want to stay with Ruby, eat at Ruby's or see a show at Ruby's you will need to leave town. That's the bad news. The good news is that her rates are excellent, her rooms are nice (if in need of updating) and the location is fantastic. Be aware that because the hotel is old and spread out the noise between rooms is pretty bad. Try and get an upstairs near the stairs. We got to hear lots of people yelling at each other our night there.
After checking in we headed into the park. Bryce is different than Zion in that at Zion you really can't drive through the park. You take the shuttles up and down the valley. And at Zion you are in the Canyon. At Bryce you are above the canyons (unless you hike into them) and you just drive from one viewpoint to the next. So that's what we did. First we hit Sunrise Point which was pretty impressive (see below).

After a short picture taking stop we moved on to what we decided was the main event, Sunset Point. It was the kind of place where you just sit and go OMG! And the pic below is one of hundreds.
​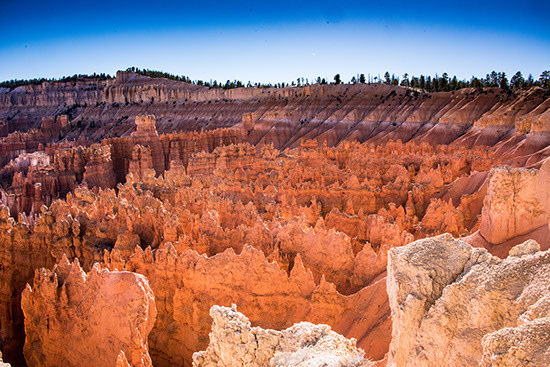 At Bryce Canyon you just keep staring in awe and then you get back in your car, drive to another viewpoint of the same things and stare in awe again. It's that incredible. Plus if you are lucky as an added bonus you get wildlife along the way. If you are driving in or around one of these parks and you come around a corner and see a bunch of people out of the car holding their phones up, check out where they are pointing them.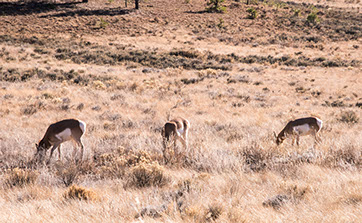 That's where you'll see the wildlife. In my case, I give a nasty chuckle because I know that what I will get from my Nikon will be sooooo much better than what they get from their phones. See what I mean with these antelopes who were a ways off the road? Seriously though, for Bryce you HAVE to look at my photos on my Flickr account that you can find by clicking here.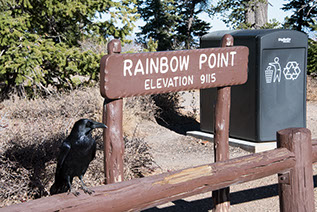 We also (within the same hour) spotted deer and elk as well. So this was quite good trip for fauna as we had also seen deer and wild turkeys in Zion. We kept going up the road stopping at different overlooks or deciding to skip some and hit them on the way back because basically you are just driving up a road to the end of it and coming back on the same road. Your last stop is the Rainbow Point viewpoint where we were greeted by a very noisy raven. On the way back we stopped off at just two others one was called Natural Bridge—which was really less of a bridge than a hole in a rock—but a pretty cool hole.
By now, it was getting close to dinner time. My plan was to come back pre-dawn and hike down into the canyon while Kathleen slept in. As you can see, that was "my plan" but when I got up the temps had dropped into the 20s and I decided to (and Kathleen requested that I) skip this walk.
Dinner in Bryce Canyon Village is pretty much one choice, something that's part of or owned by Ruby (who owned our hotel). We were really looking for something more interesting and Kathleen found a link to a place on Trip Adviser called The Stone Hearth Grille in the nearby community of Tropic. We weren't sure what to expect since most of the food near Bryce itself is pretty much steaks and burgers and that's not us. So we set our GPS and drove the seven short miles to Tropic and after some fun searching (if you go, just know it's kind of off the beaten track) we found it and we are glad we did.
This has to be the only "interesting" food in the area. Kathleen had an awesome pork chop and I had some incredible mushroom risotto. Service was by the incomparable Tim who took excellent care of us. Best service in Utah up to that point. Be warned though, you do pay a premium for this great food. My thoughts were that we would keep the cost down in Bryce as we were out in the hinterlands but this dinner ended up being one of the most expensive of the trip. A split appetizer, two entrées, two cocktails, one glass of wine and a split dessert were in excess of $160 with tip. But I smiled because we were only paying $89 for our room at Ruby's so it all balanced out.