I truly love to eat out in Seattle-area restaurants. We try to go to as many different places as we possibly can and still be able to go back to our favorites. One of the reasons I started creating this site is that friends from out of town would ask me for restaurant recommendations. So I after sending out hundreds of e-mails (I guess they like my taste in food) I decided to create this site and just post my restaurant views here on this page for anyone who wants them in the future. Names of restaurants in green below are links to the restaurant's website where you can always find their menu. I won't go to a restaurant that doesn't post their menu for me to see before I go. Unless otherwise noted, all places take reservations and they are recommended. Most of them take reservations through Open Table (a SUPER online reservation service).
Food I like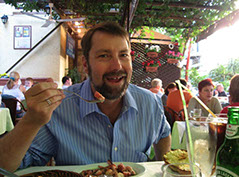 I am an somewhat adventurous eater. If I start by telling you that my favorite food is octopus that might give you an idea. My favorite restaurants are almost always ethnic. I haven't been to a steakhouse-type place since I was a kid. I don't eat fast food. I don't like big chains. I am more into interesting than quantity.
We travel a lot and when we are in new cities, we want to try stuff we can only get there. I have no problem with folks that do like all those things but if you are looking for recommendations on chains, steakhouses, fast food locations or something along that line this is the wrong place to be.
Affordable with a crowd (less than $20 per person) downtown
Alright, this is tough. I have friends who are going to want to take a bunch of teens out to dinner who are in town for a journalism conference. I put together this list. It is restaurants that are close to downtown (or a monorail ride away) that might work. If you are interested in this, check out their menus to see what works. I have put some comments after each one.
Eating well but with a budget ($20-$25) downtown
Recently a friend from Denver who was coming to Seattle e-mailed me with a request for someplace they could take a group of 10+ people that would cost them around $20 to $25 per person in downtown Seattle within walking distance of the Seattle Convention Center where they would be attending a conference. Now 20-$25 is a pretty tall order in downtown Seattle but I think I gave them some good choices that aren't too far away.
Starting at the low end, money-wise but not foodie-wise is Serious Pie. Tom Douglas (our PREMIER restaurateur) has this amazing pizza place. It's about a 15 minute walk from the Convention Center. Gourmet pizza. Not your usual pizzeria food. Only drawback is they don't take reservations and you can easily wait an hour on the weekend but if you want interesting pizza it's worth it.
About three blocks away from the Convention Center is one of my favorite pan-Asian places, Dragonfish. Food is outstanding and we have taken groups there. Serving is family-style so everyone gets to try all kinds of stuff. You can definitely stay under $25 per person when you share and there is plenty of food. Be careful of the Dragonfire Chicken. It is truly HOT! If your friends would like Asian, this would be my choice. They do take reservations.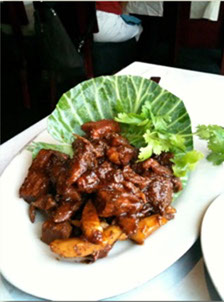 Another Asian place we love is down on 2nd Street. It's about a 15-20 minute walk and it's called Long Provincial. They do Vietnamese and we have taken lots of friends there and you can do family style or everyone gets their own--either way. Entrées (which are big) are in the $15 range. I can speak very highly for the braised coconut pork. One of my favorite dishes ever. They also take reservations. That's a pic of their braised coconut pork right next to this. Yummy!
If Asian isn't your game, you can try any of the restaurants in Pacific Place. It's a shopping venue that's about a 5 minute walk from the Convention Center. Inside there are about eight restaurants (may be more or less as they come and go fairly quickly. We have eaten at Il Fornaio (although it is an Italian chain), which has three restaurants in the building. One snack bar place in the middle of the atrium, a full-service, sit-down Italian restaurant on the first floor and a risottoria (they server predominately pastas and risottos) below the full service one on the street level. The full-service one might be above your budget and I have had better Italian nearby. (see Cuoco below) There's a Johnny Rockets, a plain-Jane Mexican place, a chowder house and Thai Ginger (a little spendy for Asian food, I would go to either the aforementioned Long or Dragonfish before I went there.)
But my friend from Colorado found a place owned by my Tom Douglas, my aforementioned favorite restaurateur called Assembly Hall. Not really a restaurant as much as a place to take groups, she found that she could arrange a dinner for a BUNCH of people. So if you are coming into town with a crowd, this might be a possibility for you. Assembly Hall does to a breakfast menu all day long.
Eating well but without a budget ($30+) downtown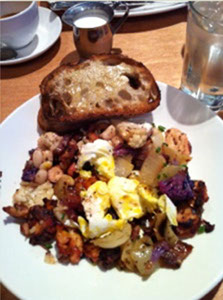 My favorite restaurant in the world is another Tom Douglas place (he has 18 within a 2 mile radius all serving different types of food), Lola. New Greek food. Might run you a little more but worth it. You would have to control the ordering here and the food is what some would call experimental. Best place in Seattle for breakfast. Have Tom's Favorite Breakfast. Always amazing. Has octopus in it. I love octopus! That's a picture of Tom's Big Breakfast right there. But it's always different. It always has seasonal ingredients, yogurt on the bottom, a fried egg on top and octopus. Did I mention I like octopus?
Right across the street from Lola is Tom's original "fancy" restaurant, Dahlia Lounge. We haven't been there in a while because I love Lola so much but it still garners great reviews. A few blocks from these in the Via 6 apartments is Tom's take on Asian food, Tanaka-san. We LOVE it. Amazing food and the prices aren't bad. Order the best wings you will ever have and have some fried rice (it's awesome!)
Lastly, about three blocks from the Convention Center you can board the South Lake Union Streetcar and head down to South Lake Union, the new Seattle hot spot. There are a BUNCH of great new restaurants there including my second favorite restaurant in the world, Cactus. They do Southwest cuisine (not Mexican). Been eating there for more than 15 years. This location is brand new though. It is located almost on the Amazon.com campus and right next to it are two other places owned by Tom Douglas, Cuoco (Italian) and Bravehorse Tavern both kind of spendy but good. If you have to have seafood because you are in Seattle and can stretch your $$$ out just a little, try Flying Fish (also in South Lake Union). Another great place for seafood is another of Tom's places, Etta's which is at the north end of Pike Place Market.
Word of warning about the streetcar. It is $2.75 each way for about a 10 minute ride but it's kind of cool and kind of lame at the same time. You can walk it, if it's not raining (or if it is raining, you will just get wet). About a 20 minute walk. My wife used to work in the building above Flying Fish so I know the area fairly well.
If you are over near Seattle Center (at the base of Queen Anne--far side of Seattle Center) try Toulouse Petit. Their main cuisine is Cajun/Creole but they have a happy hour that goes on and on and on. Great food and great drinks at great prices. Great place for dinner pre-show for any of the venues in Seattle Center.
I should also mention that most Seattleites think that Capitol Hill has the best restaurants in town. Can't speak to that because besides being a great place to eat it is the worst place to park in the state. Good luck if you have a car. But if you go up, make sure to stop by the new Starbucks Roastery. It is supposed to be Disneyland for coffee aficionados. When my lovely bride retires in December of 2017, we hope to go up to Cap Hill more often.
My other favorites are here on the Eastside but I think I will devote an entire page to getting out of downtown and include that on that page.
I promise to add more to this page in the not too distant future. Some notes about restaurants outside the downtown core as well as some there that are a little more spendy.