2 days in beautiful and historic Savannah
Getting there
This is quick. Seriously, from Hilton Head to Savannah is barely an hour of driving. The two communities share an airport (even though they are in separate states) so they have to be pretty close. The drive is easy and pretty and you arrive in Savannah over a very high bridge that drops you directly into downtown.
We had decided to take a Hop-on, Hop-off (HoHo) bus to start our Savannah tour. We have found that those can be a great way to just get an overview of the city. There are two companies that do this in Savannah and we chose the Old Town Trolley Tours as we have used them before with success in other cities. They and the other tour company, both leave from the same place, the Visitor's Info Center which is near the end of that bridge. The bus company includes free parking during your tour and the Visitor Center is excellent with two gift shops, a museum and lots of clean restrooms as well as more brochures and fliers about the city than you can shake a stick at. We highly recommend taking a HoHo bus tour to start your intro to any city.
One of the things you may note when you do take these is that there can be a real difference in the tour depending on who is driving the bus and giving the tour. This was true for this trip. We first were on a bus with a very nice young lady but she was just not fun. We like fun. So we got off at the City Market and walked around for a little while, grabbed a gelato, looked at some art and hopped back on...a different bus. Our second driver and he was OUTSTANDING! Had great stories, funny and so much more. We had a great second half of the tour. So this is our advice, if you don't like the tour guide you have on a Hop-on, Hop-off bus, hop off. Get on another one. And we would endorse the Old Town Trolley Tours. They do a great job. I wish I could recommend a particular driver but I can't remember his name and besides, you will never find one particular driver. Just keep switching until you find one you like.
When we were done with the tour we jumped in our car and headed back towards downtown where our AirBnB, Laura's Cottage was located as it was almost check in time and we could use a break. Here's is what our host Vickie has to say to describe Laura's House: Live in history.
"Our 18th century cottage is in the quiet heart of historic Savannah off Columbia Square. Have a cup of coffee on the front porch as you watch the horse-drawn carriages clip-clopping to City Market. Comfortable and private, it features exposed interior heart pine beams, antiques, private parking, and an authentic sense of place. The cottage is steps to restaurants, museums, shopping, SCAD, and the River."
This description is exactly right on. See my pictures of this amazing place and you will see what I mean. You can even go to their AirBnB page
. The place (at least for two people who respect history) was amazing. And it had been lovingly restored with all the modern conveniences of home. Best water pressure on the entire trip. Cleanest lodging on the entire trip. This place is worth a trip to Savannah just to stay there.
After we checked in, took pics (
click here to see them
), refreshed a little, we walked to dinner at the wonderful Alligator Soul about six long blocks away. It is an underground restaurant and a very impressive place. We went early to take advantage of their Happy Hour pricing on drinks. We had heard they had great cocktails and it was true. Kathleen had an outstanding Old Fashioned while I had a Down the Rabbit Hole (Organic Single Barrel Dark Rye Whiskey ~ Lemon Juice ~ Grilled Carrot and Orange Syrup). Seriously, grilled carrot. It was amazing. After happy hour was over, we moved to our table and ordered dinner. Kathleen had the Fried Green Tomatoes and I started with the Alligator Jambalaya which was AWESOME! My kind of interesting food. For our entrées Kathleen had Roasted Pork Loin ~ Organic Mustard Greens ~ Garlic Roasted New Potatoes ~ Charred Apricot and Onion ~ Honey Fennel Pollen Whole Grain Mustard and I had the "exotic specialty" which that night was New Zealand red deer. Both were superb. In fact by the time we were done, we could not handle dessert. No chance.

One other note about
Alligator Soul
. While looking for restaurants for Savannah, I saw their name on Open Table which lead me to their menu which lead me to book it. One of the reasons I was attracted to their name was that we used to have a favorite place for Southern food just north of us in Everett, Washington. After we were done with dinner the owner was walking around asking diners how their meal had been and how they had heard about Alligator Soul in Savannah. We told her our story about the Everett restaurant with the same name. She surprised us completely by telling us that she and her husband had owned it when we had eaten there in 2002 through 2006. They sold it to a relative and moved to Savannah and opened that Alligator Soul. Talk about a small world. Food was great in both places. We are sorry that the Everett one has closed.

After dinner we kind of meandered around downtown on our way back to Laura's Cottage. We walked for a while until we found ourselves on Broughton Street in front of
Leopold's Ice Cream
, a Savannah institution. We had heard about it from Vicki, our host and read about it in other places as well. Its fame is well deserved and we believe now that a visit to Savannah without a stop at Leopold's would just be wrong. Try the ginger ice cream. The love of my life, who is a ginger nut, says it was the best.
The next morning I took one of my early morning walks to take pics, followed by breakfast (this time we went light at Starbucks because we would be doing a food tour later that morning) and then headed out to take drive around a little bit before we went down to River Street for our food tour with
Savannah Taste Experience Food Tours
. We met Pamela, our guide at Rocks on the River which was our first taste–a seafood chowder (delicious) and Kathleen (due to her shellfish allergy) had a lentil soup.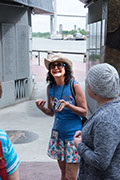 She said it was very good. Then it was on to
Tondee's Tavern
, an establishment that dates back to the Revolutionary War. There we tried their shrimp and grits which were also outstanding. Many of us also ordered a Savannah punch. Unlike most other places in the US, you can get an alcoholic drink to walk around with in Savannah. You can have an open container or cocktail on the city streets so we did. Too sweet for me. Supposed to be the Savannah version of a Long Island Ice Tea, lots of booze and no taste of it.
Our third stop was
The Ordinary Pub
, an underground establishment on Broughton Street (Savannah's main shopping street) that served us a low cal (sarcasm intended) sandwich made from a glazed donut as the bread and the filling was a nice piece of pork belly. See what I mean about low cal? Stop four was
Molly McPherson's Scottish Pub
where we had a really good Shepherd's pie. It was so good we ended up choosing to go back there for dinner later on. We also wanted to try one of their Scotch flights. Dinner and the flight were both great. Just like the Shepherd's pie. Besides, it was really cool place as well.
Next up was
Pie Society
, a very small but quaint British-style bakery owned by a British expat who gave us some outstanding biscuits with sausage. A real treat. Our second to the last stop was
Mabel's Cupcake Emporium
. Her Mabel's special was delicious. From there it was back to Broughton Street and our final stop, The
Savannah Bee Company
for a tasting of six or seven honeys and a discussion of the different ones that each tasted amazing and different. We brought a few home they were so good.

We then did a bunch of walking around, grabbed some art for our bathroom (if you have been here, you know what we mean). That afternoon we had booked a voyage on the
Georgia Queen
, what we thought was a traditional paddler wheeler on the Savannah River. It was not really a paddle wheeler (just a diesel boat with propellers under water like every other boat–sad). The river tour was cool, took about 90 minutes, was completely narrated by a very knowledgeable crew member and we would NEVER do it again. And that poor review has nothing to do with the boat or the company that runs it, it was the fact that this was the last week of school in Savannah and a group of middle schoolers were onboard (about 60 or 70) with it seemed like one adult supervising them. They took over the ship. The poor guy doing the narration would have to stop every five minutes to ask the kids not to do something. Not to run, not to yell, to allow others to hear, etc. These ill-mannered children ruined the tour for the other 300+ people on board.
After the tour we headed back to Laura's place where we began packing for our trip home with a break when went back to Molly McPherson's for dinner and a Scotch flight. Then it was off to bed as the next day was travel day but not until late in the afternoon.
So I was up early and did my usual early morning photo walk followed by breakfast, packing and hitting the road. We didn't have a flight until very late in the day back in Charleston so we had two stops we wanted to make on the way. The first was the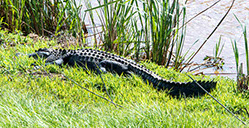 Savannah National Wildlife Refuge
, located on Alligator Alley. They have a four mile nature drive that we took and loved. Lots of flora and some fauna (like alligators and cool birds­—see my pics.) Then further north to
Firefly Distillery
where we did some tasting and buying before heading to the airport.
All in all, it was a WONDERFUL trip. We loved Charleston, adored Savannah and would probably give Hilton Head a pass (except for dinner at the Rooster) on future trips. The only warnings we can give you about the entire trip is this: traffic in the Charleston area is horrid. Didn't ruin our vacation or the business part of my trip but be prepared. Took me a lot of time to get anywhere. Savannah was almost as bad. Other than that minor problem (we had a really great VW Tiguan rental from Hertz) it was a super trip.