Intensive! Intensive! Intensive!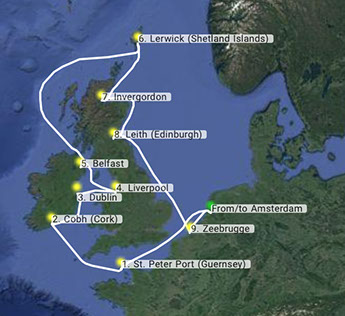 I know that so far I have mentioned at least four times that this was a port-intensive cruise and it was. Let me compare it to our previous cruise before this one—our 2014 cruise on Infinity from Fort Lauderdale through the Panama Canal to San Diego. That cruise had seven port days and seven sea days. A superb mix. That gives you time to recover from one day to the next. This 14 night cruise had just 3 sea days and 10 port days. That makes for one exhausting cruise but one where you get to see a superb number of places.
St. Peter Port, Guernsey, Channel Islands
When we first booked this trip I had no clue where this place was or what was there. Now after having been there, I can say that this was my third favorite place we stopped on this cruise. I won't give you an entire geography and history lesson for Guernsey but I will tell you that before going we read the book, "The Guernsey Literary and Potato Peel Pie Society" (I was totally disappointed to find out on the last page, it was fiction) which really made us appreciate our time there. If you are going, I suggest you read it. I will also say that of all the ports we visited, this was the biggest surprise and I would go back for a few days if I could.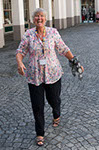 We booked a walking tour of St. Peter Port with the amazing Annette Henry. (That's her at right.) When I say amazing, there is no better way to describe Annette. She is a superb guide (has been doing it for years) and quite the entertainer. I truly believe it you book a tour with her (book early, she books up quickly) you will have an amazing day.
A couple of problems that some had in St. Peter Port had to do with tendering. Since there is no dock big enough for a major cruise ship, you have to be tendered into the harbor. (For non-cruisers, the ship drops some lifeboats and uses them to take those that want to go ashore to a small dock in the harbor.)This was a fairly short tender ride but there was quite the hold up getting everyone off the ship. We were lucky and got off early and had no wait at all.
St. Peter Port is one of those small ports that is trying very hard to welcome and build cruise ship business. We were met at the dock by lots of locals who passed out maps, gave directions, helped us find Annette and generally made us feel very welcome. We did the two hour tour with Annette, which took us all over the town, learned all about the history of the island and other things we might want to see or do while there. Then we grabbed lunch at a wonderful harbor-side restaurant which served the most amazing butter for their bread…from Guernsey cows. Words can't describe how much better this butter was than any other butter we have ever had.
After lunch we walked around the town to find some art for the house and also found one of the coolest chocolate shops ever. Apparently there is a chocolate maker in town that has won all kinds of international awards. We looked but didn't buy but once we were back on the ship, Perry presented us with a box he had picked up just for us. Check out the pic of the chocolates below. Their description is on the right and I can say, there were delicious.
​

One last thing about St. Peter Port. X in their wisdom (sarcasm again) has decided not to stop in St. Peter Port on this cruise next year. A huge mistake as I see it. This port was a delight. Click here to see my St. Peter Port photos.
Cork-Cobh Ireland
The very next morning (see what I mean about no rest for the weary?) we arrived in Cobh which is the port of County Cork, Ireland. We were met there by our guide from Paddywagon Tours, Michael.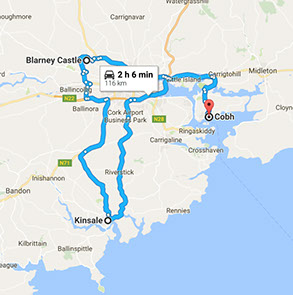 A couple of thoughts about Paddywagon Tours. First, they are huge. They are all over Ireland and we could have toured with them in all three ports if we had wanted to but we were doing an independent tour operator in Belfast so we just spent two days with them. They do big bus tours but all our tours were small van tours just for the seven in our party. Michael got us in the van (which was huge for us. It could have easily seated 15 so we each could have our own set of seats) and off we went. Michael put his headset on (a really good thing—as you will see) and told us all kinds of great Irish facts on our way to Blarney.
And that was the problem…going to Blarney. We did not get the tour we asked for. (This seems par for the course for Paddywagon in Cork as the month before, my buddy Mike Preisman was there on a different cruise and they completely forgot about him. Read his account here.)We were picked up by Michael and he took us to Blarney when I had specifically requested we not go there. Although it worked out OK, as Tim and Perry wanted to kiss the Blarney Stone, but for most of us, half the day was spent doing something we had specifically asked not to do. Michael was nice but not dynamic. The day turned into pretty much a two-part tour. We did Blarney Castle in the morning and the village of Kinsale in the afternoon with lunch in the middle. Michael took us to a nice pub lunch of an awesome beef stew.
Would I tour with them in Cork/Cobh again? No. Paddywagon is a big company and it appears they do not listen nor respond. I had a lot of problems with getting them to respond pre-cruise. Even though I specifically told them no Blarney and we wanted to take a Ring of Kerry, we didn't get it. All the e-mails they sent back to me pre-cruise showed that we would be getting the Ring of Kerry tour. By the time we knew where we were going (Blarney Castle), we were already mostly there. If you do decide to do business with Paddywagon, my suggestion is do your best to get them to respond to you, take the correspondence with you when you get off the ship, discuss it immediately with your guide and insist on what you were promised. I should have done that. Click here to see my Cobh/Cork photos.
Dublin
The next morning we docked bright (well no bright involved as it rained much of the time we were in Ireland) and early in Dublin. There we were met by our second guide from Paddywagon, Gabriel. We had booked a Wicklow mountains and Dublin City tour and this time we got exactly what we asked for. Gabriel had us on the road and off to the Wicklow mountain area in no time. The scenery was spectacular. Gabriel regaled us with Irish stories, Irish history, Irish jokes, Irish politics and so much more. What we saw on this tour was exactly what I expected Ireland to be about. This was definitely our best day in Ireland.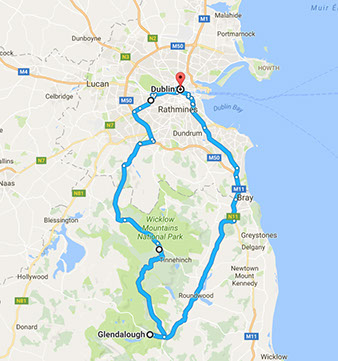 We had the same big van (so lots of room) and a great sound system so we could hear Gabriel's outstanding narration. We drove through some true back roads in the highlands, through fields of heather and past sheep ranch after sheep ranch. Our mid-morning stop was in the village of Glendalough where the Irish saint Kevin lived and is buried. Lots of great ruins to comb through and take pictures of and an outstanding restaurant where we enjoyed scones and Irish coffee. Then back to Dublin for our city tour and lunch at another excellent Irish pub—probably the only one in Ireland that doesn't serve Guinness. (All day long Gabriel had been telling us that Guinness in Europe doesn't taste like Guinness anywhere else and says we have to have one in Dublin and then he recommends what might be only pub in Dublin that doesn't sell it.) After that we were dropped off at the ship with plenty of time to spare.
I would do this tour again in a minute, especially with Gabriel. It was exactly what we had asked for with a great guide thrown in to the bargain. Click here to see Dublin photos.
Liverpool

We did not have anything planned in Liverpool as we were meeting two of our Martini Mate buddies, Paul and Gail who live in Leeds (about two hours away) for lunch. We were really looking forward to seeing them and had planned to get off the ship about two hours before they got there and take the Mersey ferry (which operates as a tour boat during after the morning commute) for a 45 minute ride around the harbor. Only problem was…the weather. We were inside watching people getting off the ship and the rain was coming down horizontally, umbrellas were being blown out and people were having to lean into the wind to stay on their feet. And from there it only got worse. We waited a little while and it seemed to get better so we ventured off and as soon as we did, it started again. We did make it down to the ferry but what a miserable ride. Poured rain, the wind blew and it was horrid.
Once off the ferry, we made our way to the Albert Dock, Liverpool's edge-of-the-harbor tourism base. They had a number of museums including at least two Beatles exhibits, a branch of the Tate Modern Art museum, a maritime museum with a nice Titanic exhibit and assorted restaurants and shops. We met our buddies from Leeds there and had a splendid time just catching up over coffee. After that we toured the maritime museum and then had lunch at an interesting Cuban restaurant in the Albert Dock. Then we sent Paul and Gail off to London to see their newest grandchild and we headed back to the ship just to get warm and dry. A quick visit to the Persian Gardens warmed us right up.
Others (Tim, Perry, Nancy and to some extent my brother Steve and his wife Jamie) toured a little more than we did and said they liked it. We, on the other hand considered it a total waste of time. Especially with the limited amount of time we were in port. Had it been a little longer or if we had not been meeting Paul and Gail, we might have done a longer excursion out into the Welsh or English countryside. Do not get me wrong—I am a HUGE Beatles fan. But I know their story and really don't want to spend an entire day hearing it again.
This was the worst weather of the cruise. If it is raining and windy when you are in Liverpool, be smart and stay on the ship. I honestly believe if our friends had not been coming from Leeds, that is exactly what we would have done. Not much to see and the worst weather ever to see it in. The port is trying to bill themselves as a "world-class port" but they have a VERY long way to go. Maybe on a sunny day we might have liked it better. Click here to see my Liverpool photos.
Belfast, Northern Ireland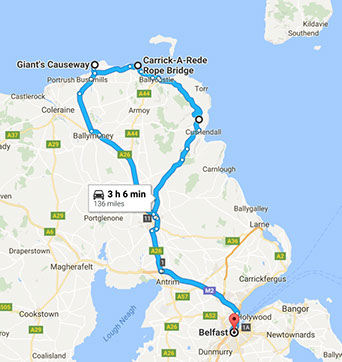 We had booked a van tour for seven with Alistair from City & Causeways Tours This was the description of the tour that Alistair sent us pre-cruise: The vast majority of our clients docking in Belfast opt for the Causeway Coastal Route shore excursion which includes stops and visits along the fabulous Antrim coast road to places such as the Carrick-A-Rede rope bridge, Bushmills whiskey distillery, Dunluce Castle and last but not least the wondrous Giants Causeway which is Northern Ireland's only UNESCO world heritage site. Our buddy Mike Preisman toured with Alistair about a month before we got there and said "he is a hoot and you will love him."
Well, we might have loved him if Alistair had been there. But it was his birthday (I get that and have no problem with it) and he sent Michael to take his place. Michael was very nice but the van (which was two-three-three configuration) had no sound system so the one person riding in the front seat heard Michael's tour narration, the three in the middle seat, maybe heard half of it and the three in the back heard NOTHING!
Besides that, we attempted to do way to much in the amount of time we had. We drove north to the rope bridge along the coast road (which was beautiful), saw the Giant's Causeway (where it POURED rain—beyond miserable) and this was way too ambitious. A note about the Giant's Causeway. It is a very interesting place…to read about. Visiting is a total pain. From the entrance there are three ways to get down to the Causeway itself. You can walk (it seemed like a very long way and I love to walk), you can buy a ticket to tour the visitor center (Rick Steves says the Visitor Center is a waste of time and Michael our guide agreed) for £11 or you can walk around the Visitor Center and take the bus (that is included in Visitor Center price) for £1. We chose the £1 method. Only problem was, the place was packed! And that meant not only a line in the pouring rain but when we got down to the bottom, we got out of the bus and Kathleen and Jamie immediately said, they were getting back in line for the bus ride back up.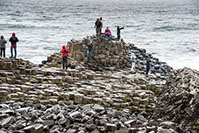 Mostly they did this because it was raining so hard but also because there was already a three bus wait to go back up. That meant that the bus would have to go up and come back three times (about 20 minutes) before we could get on it to go back up. And the walk was way too far for some of those in our party. We (those of us with cameras) got off the bus, took pics and then got back in line with Jamie and Kathleen and took the bus back up. After that Michael picked us up and we headed into the town of Bushmills for lunch (nice fish and chips) and then a drive back into Belfast for a quick city tour. I need to say that the city of Belfast looked amazing and I am sure that there is a lot of great stories to be told. And I heard from my brother who was in the front seat that it was really fascinating but those in the middle seat heard a little of the tour while those in the back heard absolutely nothing.
I have no photos after lunch because we were in the car the entire time without a stop and with the tinted windows on the van, only the person in the front seat could shoot pics. I was totally disappointed in the this tour because we had high expectations and they were never close to being fulfilled. I have since heard (through Mike Preisman who has stayed in contact with Alistair) that he has now purchased a sound system for his van. I asked Mike if he thought Alistair might give us a partial refund since only two or three of us got to hear any of the tour and Mike said that was not up to him. I guess not. I want to fault X here as well. Why we did not dock until 10:00 am is beyond me. You could take a 12-foot rowboat and get from Liverpool to Belfast faster than we got there on Silhouette. Click here to see my Belfast photos.
Lerwick, Shetland Islands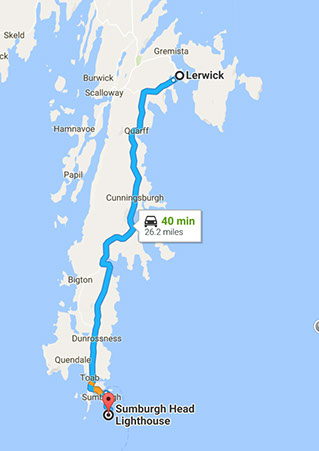 We had a much-needed sea day between Belfast and Lerwick (As I mentioned on the cruise review, the ship was packed. No place to sit in almost any public area. First time I have ever felt that crowded on a Celebrity ship.) We arrived in the tiny village of Lerwick early on the day after.
Silhouette was the largest cruise ship to ever visit Lerwick and the town had put out a call for businesses to be open (it was Sunday) and for locals to turn out to meet us. Just like St. Peter Port, this community really wants to welcome cruise ships and we were very impressed. They had a bunch of well-costumed Vikings waiting to meet us and form a gauntlet as we arrived. I give great kudos to Lerwick for the fine welcome we were given. This was another tender port but the ship did not have the same problems they had experienced at St. Peters Port. At least not to the same extent. It seemed to go much smoother here.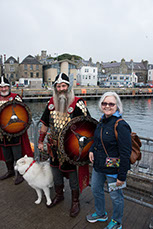 We were touring with Grant Redfern of G's tours. Here is what he said about the tour when I first contacted him: "The puffins start leaving us in August but there should still be plenty left for us to see. Loads of Shetland Ponies as you can imagine, you will probably be sick of the sight of them by the end of the tour :)
There are lots of other things that we will fit into the tour including more wildlife, ancient sites, many scenery stops etc. If there is anything else that you find out about Shetland and want to include in the tour then just let me know."
Well Grant and his sister and brother met us at the dock. Because the ship was so big, Grant had booked two other full day tours and so he enlisted his brother and sister to tour the others he could not take around the island. We toured with his sister Diane who was very nice. Again, the biggest problem was the lack of a sound system in the van. That again meant that those in the front could hear, in the middle hear about half and in the back nothing at all. She did tour us all over. We didn't see any puffins (too foggy at the lighthouse), saw lots of Shetland ponies and in a totally outstanding and generous gesture she took us to her farm and let us see her sheep dogs working the sheep, the rams and even try to herd the chickens. That was hilarious. We got to see a lot to the island before heading back to the village where we shopped a little and then back to the ship.
One last thing; Celebrity in all their smarts have chose not to include Lerwick on next year's British Isles cruise. Stupid. Cut Liverpool. Cut Belfast. Leave Lerwick and St. Peter Port alone. Click here to see my Lerwick photos.
Inverness/Invergordon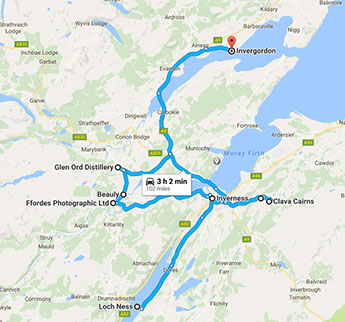 We were touring with Ian of Inverness Tours. Our tour was based on the locations in Diana Gabaldon's Outlander Books – but it was an excellent day out even for those who have never heard of the books. We began at Clava Cairns Bronze Age stones and monuments, then we were off to the Culloden Battlefield. Then it was off to lunch in downtown Inverness followed by a drive along a portion of Loch Ness before heading through the hills to Beauly to visit the 13th Century Priory. We finished by visiting the Glen Ord distillery for some scotch tasting, and then back to the ship. That was the gist of it but it does not begin to tell the whole story.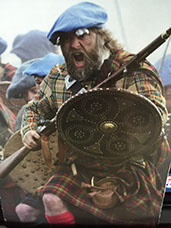 First, Ian (that is really his photo at right) was AMAZING! His knowledge and expertise about all things Scotland was wonderful. He truly entertained and educated us and took wonderful care of us. One big example of this: As we were getting off the ship Tim and Perry were talking to Ian before we arrived and they told him about a problem I was having with my Nikon. I had somehow gotten a huge piece of dirt on my sensor. I had done the auto cleaning routine a number of times but it just did not work. Every photo I took had a huge blotch on the right hand side that I would have to Photoshop or crop out of every photo. Ian asked me about it and I told him I hoped to find a camera shop in Edinburgh the next day. Just after lunch, we were on our way to the Priory and we swung off the road into a parking lot. He led me into what might have been the largest camera store I have ever seen…in the absolute middle of nowhere. Kathleen found it on the web and it's called Ffords Cameras. They had hundreds of thousands of dollars of cameras and lenses on display and a complete service department who promptly cleaned my sensor. Outstanding! And I hadn't even asked him. That's the kind of guy he was.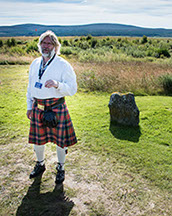 Also, Ian had a sound system! He had a speaker in the back so that every person could hear all his narration as we drove. That's the difference between a professional guide and one that isn't. It was a super day of touring. We would tour with Ian again in a minute. Everyone else we talked to who had been with a guide from Inverness Tours loved them so they get our highest recommendation. At right is what Ian looked like on our tour. The photo above is from a movie you will see when you visit the Culloden Battlefield Visitor's Center. His photo is on the front of the Culloden Battlefield Visitor Center brochure. We were impressed. Click here to see my Inverness and Invergordon photos.
Edinburgh and the Military Tattoo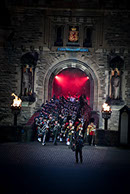 We had an overnight in Edinburgh so that on the first night we could see the Edinburgh Military Tattoo. If you have never seen it–GO! If you are on this cruise in the future and think you shouldn't go–you should. We have been to a lot of theatre. We have been to Broadway five times, the West End twice, seen more Cirque shows in Las Vegas than you can imagine and this was the single greatest spectacle and show we have ever seen. This was worth taking the entire cruise for. This was worth all I did to arrange three buses to get us there and back. Click here to see a tiny bit of it if you missed it on the Trip Planning page.
Buses
Finding late night transport back to the ship was incredibly difficult. I had originally wanted to just find transport for the seven of us in our party. I could not find a single limo service or town car that would accommodate us. So I thought I would look for a small bus company that would take us. Something with a van about the size of an airport limo. Figured I could find some other folks on the Cruise Critic roll call that wanted to go as well. So I found Ladywell Travel. And I found Alistair at Ladywell who put up with me changing our plans a number of times. My biggest mistake was to say on the roll call that "anyone interested should let me know." What I should of said is that you have to e-mail me. When I thought I had 27, I put a list on the roll call and said, "these are the people who are going." But I had missed some folks and felt horrid that I couldn't take them as well so I called Alistair at Ladywell back to see if they had a bigger bus and they did. A 49 passenger bus. So I said OK. And that was that. Until we got more people who kept asking if there was room so I asked Alistair if they could do that 27 passenger in addition to the 47 and from there it just grew and grew and all of a sudden I had three buses with 147 people going and people calling me to ask what time and telling others about it on the ship who were not part of the group.
Word of warning. If you decide to arrange a bus for your Cruise Critic roll call, this will take over your life. Even on the cruise. Right up until the day of the Tattoo I was averaging two or more calls a day to our cabin on the ship from people who wanted to get on the buses who were not on our Cruise Critic roll call. They had heard about it from people at their table in the MDR or at breakfast in the buffet. That meant I had to make sure that only those who had paid in advance (on PayPal) were getting on the bus. That meant playing tour guide and with the help of my brother, his wife, my wife, Tim and Perry checking off everyone who got on each bus. It was something I would never do again. I had to set up a PayPal system so everyone could pay me in advance as I had to get more than $1500 to the Ladywell three weeks prior to the cruise. Ladywell offered no refunds which means if we had not been able to tender or to get into Edinburgh, we would have lost all the money.
So we arrived in Edinburgh at 11:00 am and the tenders started going in. There has been a lot written by people on our cruise about how bad the tendering situation in Edinburgh was.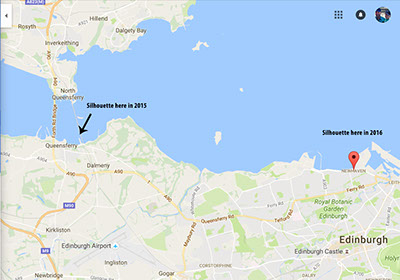 Here's the facts as I know them: Celebrity made the decision to tender into Newhaven instead of Queensferry as they had last year for their British Open cruise. On that cruise they had tendered into Queensferry (near the bridges we could see from the ship) but there was so much wind that they had to cancel tenders on the entire first day and many people missed their day at the British Open. X wanted to avoid that this year so they moved the tender spot to Newhaven (as it will be next year). Less wind but further to tender. I should also mention that Newhaven is much closer to downtown than Queensferry. A cab from Newhaven to the Royal Mile was £9 to £11 while a cab from Queensferry to the Royal Mile might have cost you £30. The bus people we used wanted £11 each from Newhaven and £19 each from Queensferry.
But the tender distance in at Newhaven was a really long distance. Like a 30+ minute average. That's a long tender ride. And that also meant that it took a long time to get people back and forth and some people had to wait quite a while to get tendered in and out and that made for some upset people. We had no real problems with tendering we wanted to be on the dock at 1:45 so we got in line for the tenders around 12:30 and sure enough we were on the dock at 1:30 just like we wanted to be. Others waited longer and had a much longer wait.
On the way back we left the Tattoo at 11:30 and were back aboard the ship by 12:30 am. Tenders were supposed to stop running at 1:00 am but they kept running because there were still people who had taken taxis that did not get back until after 1:00. Taxis were at a premium after the Tattoo as you can imagine and people had a hard time finding a taxi and once they did they had a hard time getting out of the city and back to the dock.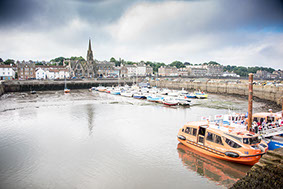 A couple of other tendering facts. People asked why X anchored the ship so far out from the dock. Some even accused them of being that far out in order to keep the shops and casino open. Nothing could have been further from the truth. In case anyone missed it when tendering in, there were a bunch of boats high and dry from the extreme tides that affected the area. Silhouette anchored as close as she could to Newhaven without going aground or risk going aground at low tide.
Another comment I saw was why did they only have six tenders (boats) running from the ship to the shore. After talking to one of the ship's officer while waiting for the return tender trip I can say that X did their best to hire local tenders to come out to the ship and ferry people into the port and they could not find one that would do it. Apparently they offered quite a bit of money but no one was interested. Another poster wanted to know why X didn't use all their lifeboats as tenders and those people are not thinking logically. According to the same officer, maritime law requires that a certain number of lifeboats be kept on the ship at all times. They have to have enough to be able to evacuate those remaining on the ship in an emergency. So X was doing the best they could. We had no problems but we know that many others did.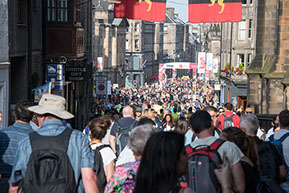 That's all I want to say about tendering. Now on to Edinburgh itself. We had been there before for a few days back in 2003 and loved the city. We took the buses I had arranged into the city arriving at the midpoint of the Royal Mile around 3:00 pm to be met by one of the largest and densest crowds I have ever seen–The Fringe Festival. If you aren't familiar with the Fringe, it is a series of performances (improv, comedy, drama, variety) that take place almost constantly. So walking from the mid-point of the Royal Mile up to the top to the Edinburgh castle was quite the challenge. Every step was through a packed crowd that was thick with performers, audience and even more people handing out handbills for shows that would happen later that day or on other days. It was nuts! Just be prepared for it.
We walked up the Royal Mile to the Esplanade where I hoped to pick up our tickets for the Tattoo at will call. But we were surprised to find that will call for the Tattoo is not at the performance site, it is about six blocks back down the Royal Mile off on a side street. Beware. If you buy tickets to the Tattoo, either get them sent to you and bring them when you come or know to pick them up at will call at the Tattoo's office which is quite a distance from the venue itself.
We had originally planned to take the Celebrity shore excursion to see the Tattoo but X wanted $500 for two seats and a bus ride. We were able to purchase two excellent, prime seats for around $120 each and the bus cost us the equivalent of $12.50. Total for two people our way was $260 or so and worth every penny. So we gave them back their shore excursion tickets and did it ourselves. You can purchase tickets on the Tattoo website (click here) any day after December 1 of the year preceding the August you want to see the show.
If you want even better seats you can join the Friends of the Tattoo as we did and purchase them in November. I am not sure that was 100% necessary but we got awesome seats. When choosing them, make sure you are up high. Too low and you won't see the entire show and it is amazing. Check their website for all the details.
After we had the tickets we headed up through the Esplanade (where the Tattoo would later take place) so that we could tour the Edinburgh Castle with Steve and Jamie. It is the base of all Scottish history and a must see. We had purchased tickets online and we recommend doing that if you plan on going there in August. The place was packed and had we waited to buy tickets, we might still be standing in line. After the castle tour we headed back down the Royal Mile as they were going to start clearing out the Esplanade to make ready for the Tattoo. We also had dinner reservations before that.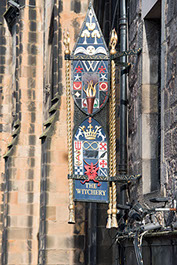 The seven of us had dinner pre-Tattoo at the Witchery, a restaurant in an incredible building built in 1595. That's 1595. The place was amazing and we loved it. Word of warning, we had reservations almost six months in advance. They were incredibly easy to deal with via e-mail and the dinner we had there was one of the best of the entire trip. We even tried Haggis but make your reservations early. While standing outside waiting for our seating at least 20 people went in to enquire about getting in for dinner. All were told to come back after 11:00 pm since it was during both the Tattoo and the Fringe.
The Royal Military Tattoo
After dinner it was on to the Tattoo. One of the benefits of eating at the Witchery was when we were finished eating, we were inside the area where they took tickets for the Tattoo so we didn't even have to wait in line, we just headed about 100 feet up the hill, showed our tickets and went to our seats. If you are going be smart and make sure you are there at least 30 minutes before the show for the pre-show which is excellent. They have a wonderful announcer who starts his spiel nice and early and has been doing this forever. It was a great way to start the show.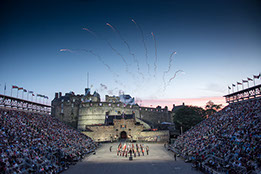 One last thing, I wish you the same weather we had for the show. All day long we had thought it was just a little warm out walking around but once we got to our seats, the weather was heaven. I had brought a jacket and a sweater but I sat through the entire performance in shirt sleeves and never felt the need to get the jacket out of my back pack. I can only hope you have same luck we did. A week before it had been pouring rain for the entire show (or so we were told) and the show goes on, rain or shine.
Edinburgh Day 2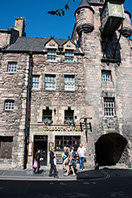 Our last day in Edinburgh we (Kathleen, Steve, Jamie, Bob, Holly and I) headed into the port to tour the retired Royal Yacht Britannia which is just steps away from where the tenders landed in Newhaven. We had also pre-purchased our tickets for Britannia and we were again glad we did as it enable us to skip the line and go right on board. I would highly recommend getting them in advance. The tour of the ship is outstanding and worth the time to do it as well as being a great way to spend the morning on day two. We can also suggest that you get there early as we were able to see the entire ship (all decks) before lunch while as we were leaving there was quite the wait, even for those with pre-purchased tickets.
After the royal yacht tour we split up and Kathleen and I took a cab back into the very bottom of the Royal Mile and walked the bottom half we had missed the day before. We shopped a little, had lunch at a fantastic Scottish pub called the Tollbooth Tavern (founded in 1820) where we had an amazing burger and the best fries…maybe ever served by one of the coolest servers ever. We highly recommend it. After that we walked up to where we had gotten off the bus the day before and walked to the Balmoral Hotel to catch a cab back to the ship. Both days were superb and we would do them again in a minute. Click here to see my Edinburgh and Military Tattoo photos.
Brugge
We had previously been to Brugge and I woke up that morning with a really bad cold so Kathleen and I sent the rest of the folks off to Brugge for the day and we stayed on board. If you want to know what to do when you go to Brugge you can check out our previous visit by clicking here. Or see our two year old Brugge photos by clicking here.
Let me sum up!
St. Peter Port: Toured with Annette Henry. Would do it again in a minute.
Cobh/Cork: Toured with Michael of Paddywagon Tours. Would not tour with Paddywagon in Cork again. First they forget my buddy Mike then they take us on the wrong tour. They were totally unresponsive before the cruise and we were not given the tour we arranged.
Dublin: Toured with Gabriel of Paddywagon Tours. Excellent tour. Got what we asked for and more. Gabriel was wonderful and we would do this tour again and recommend it to anyone.
Liverpool: If you don't have friends meeting you from Leeds and it is raining and windy, stay on the ship. If it's sunny, try Albert Dock.
Belfast: Toured with City & Causeways Tours. Would not tour with them again because you couldn't hear a darned thing if you weren't in the front seat which eight out of nine of us weren't. To be more realistic, the weather was so bad this may have colored our experience.
Lerwick, Shetland Islands: Toured with Grant Redfern's sister Diane of G's tours. Had a nice time but again we couldn't hear 90% of what Diane had to say. If Grant gets a sound system for the vans, then maybe but otherwise not.
Invergordon/Inverness: Toured with Ian of Inverness Tours and it was AWESOME! Would do this again in an instant. Make sure you get Ian and you will have a superb time.
Edinburgh: Arranged a bus for 147 people to get to the Edinburgh Tattoo. I would never do that again but I would see the Tattoo over and over again. Also had dinner at The Witchery which we loved and toured the Royal Yacht Britannia in Newhaven, had lunch at the Tollbooth Tavern and loved every single minute of it. Follow our lead and do the same thing.
Brugge: Didn't get off the ship but had done some extensive touring there in the past. Make sure and check that out at the link above.
That's it folks. You can see the rest of our websites (and there are a bunch of them) by clicking here. Enjoy. And if you are coming to Seattle, let us know.