Embarkation
About three days before our embarkation day we received an e-mail from X (X is what those of us who sail on Celebrity on a regular basis call the cruise line, so when I refer to X, I mean Celebrity Cruises) asking those with particular cabins on particular decks to come in for embarkation between certain hours. Luckily for us, we were in the first group but even if we had not been, we are Elite Plus in X's loyalty program and that meant we could board whenever we wanted to but we were glad they started with our deck as Steve and Jamie aren't Elites so they would have had to wait.
We like to board early and this time we really wanted to do this because of the huge Euro-Pride canal parade that was going to take place that day (Saturday, August 6) and the crowds watching it would jam the streets. Depending on who you talked to (taxi drivers, hotel concierges and shopkeepers) we would have a really hard (or easy) time getting from our hotel to the port. So we were glad we could go early.
We had the Banks Mansion arrange two taxis for us (one, a van for Kathleen, Steve, Jamie and I with our luggage) and one for Tim and Perry and their luggage. They arrived right on time at 9:30 am and we were off to the port. Upon arrival around 10:00 we dropped our bags, were escorted to the check-in line. We were almost immediately checked in and sent up the escalators, through security and into a waiting room where we waited for about 20 minutes until the ship was ready for boarding. By 10:40 we were onboard and wandering around wondering what to do until lunch time. That has never happened before. Our normal time to be able to get on board, (no matter what time we get there) is 11:00 am or so.
Another benefit of the staggered boarding times was a much easier, less-crowded time of eating lunch. In the past, the buffet was crammed and that meant we tried to avoid it if at all possible. Our favorite lunch place, Bistro on Five (an alternative restaurant where you pay extra) has been changed to Sushi on Five and since neither of us are big fans of sushi we knew that wasn't going to work so we headed to the buffet..to find it almost deserted. Lots of places to sit, great food and quite the variety. And I have even gotten over my need for buffet line trays because there were no lines anywhere.
All in all, Kathleen and I both agree that it was probably the best and smoothest embarkation we have ever experienced in more than 20 cruises.
Cruise Critic Activities
Sail-away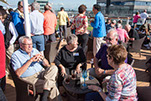 There were three events for our entire Cruise Critic roll call. The first was our sail-away get together. Immediately after the life boat drill on the first day, we had our Cruise Critic sail-away in the Sunset Bar on the Lawn Deck (outdoors—we got glorious weather for sail-away). Everyone on our Cruise Critic roll call (or most of them) showed up, to meet everyone else. It was loads of fun and Bob, Holly, Kathleen and I spent most of the time passing out name tags with Steve and Jamie's help. You can see lots of pics from the Sail-away by clicking here.
Cruise Critic Connection Party

When at least a minimum number of people sign up for it, Celebrity sponsors a Cruise Critic Connections party. You sign up for it on your Cruise Critic rol call. Ours was held, as they usually are, on the first sea day (which was also our first full day) in the Sky Observation Lounge. All the usual people showed up...the Captain, the Cruise Director and most of the senior officers. X served danish and coffee and other drinks were available for purchase. The highlight for me was the presentation of a plaque by my new buddy Bob from the entire Cruise Critic roll call that is now hanging on the wall outside my office and I am very thrilled to have it. Thanks to everyone who contributed. You can see my pics of the Cruise Connection Party by clicking here.
Last Sea Day Lunch in the MDR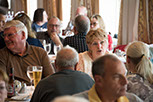 Sometime about six or seven cruises ago, I got the idea of getting the entire Cruise Critic roll call group together to have lunch in the Main Dining Room on the last day at sea. With a group this big, I felt the need to touch base in advance with the ship's Special Events Coordinator, Roxana who was very helpful in setting it all up. We had a great time and got a chance to talk about how much we loved the cruise and what was our favorite and least favorite part of the experience. You can see the pics of the last sea day lunch by clicking here.
The ship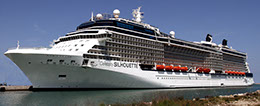 Silhouette is Celebrity's second newest ship and part of their Solstice Class of ships. She was launched in 2011 and we have sailed on two of her sister ships (Eclipse and Solstice) in the past. When the Solstice class first came out I was not impressed. We were on the 8th voyage of Solstice herself and X just did not get it at that time. Their previous largest ships had around 1950 pax (passengers) but the Solstice class has almost 3,000 and X hadn't figure out how to deal with that many. But a few years later we tried Eclipse to the Baltic and loved it and I can only say that I liked Silhouette even more. She is in excellent condition, has a wonderful crew led by some excellent officers and we would sail her again in an instant. Normally at the end of a cruise I can find at least one thing I didn't like. One thing that could use improvement and I know that some of my fellow cruisers would say the tendering situation (more about that later) but to be honest I just turned to Kathleen (sitting in our living room about two weeks after disembarkation) and asked her and she can't think of anything she didn't like. She couldn't. It was just a great cruise.
Our cabin
We were in cabin 1602, an Aqua class cabin on deck 11. For those who know Solstice class ships, this was on the starboard side, the first cabin after the hump. As I mentioned earlier we had never done Aqua before but I would say we liked it. The cabin and the bathroom were a touch bigger, the shower has extra nozzles that spray your crotch and legs (I have no clue why) and they are on a high deck, which is a good or bad thing depending on how you look at it. For me, it kept my weight in check (at least a little) because I never use the elevators on a ship, only stairs. When dinner is on deck 5 and the cabin is on deck 11 that's climbing six flights of stairs three or four times a day. Sometimes more. That will get your heart going.
One bad thing
See, we did find something we don't like but we aren't sure it can be fixed. If we have one criticism of the cabins on Solstice class ships it is the lack of storage. Compared to the Millennium class which has a bunch more drawers and shelves they are horrid. We miss the storage. One of the benefits of cruising is only having to unpack once but with the lack of storage you could easily find yourself living out of a suitcase. Not sure how they could retrofit them but I hope Celebrity takes note when they design the new Edge class of ships coming out in 2018.
One other thing I liked about the Aqua class deck was a private stairway that went right to the spa/gym which I used as often as possible (most mornings). There was also a very cool relaxation lounge at the front of the ship that we never got to use (but we did sit in once) because of the port-intensive nature of this cruise. The same is true of the Persian Garden (a suite of steam rooms) that is also an Aqua class perk. Only got there twice on the sea days. Too busy otherwise.
Photos of the ship
I did not take a lot of pics of the ship because there are already so many online. Some of the best are on my buddy Mike Preisman's website which you can find by clicking here. The link will take you right to the best of his Silhouette pics from one of his past cruises (you just have to scroll down a ways). While you are there, check out his reviews. They are always awesome. And he is the "God of Shore Excursions." We know, we have traveled with him on many of them.
Other things we loved about the ship
The gym was outstanding on this ship. Lots of machines, great hours (I like to work out early) and a true first for me in any gym—two amazing young men who were always there cleaning, check machines and passing out iced towels to those of us who were exercising. These guys were awesome.
The food
As anyone who has read my reviews before knows, a lot of cruising is about the food. So here goes my report on the food for this trip.
Breakfast
Our old habit on past cruises was to have breakfast in the buffet or the Aqua Spa Cafe (a kind of healthy walk-up buffet in the spa area) but this trip since we were in Aqua class we got to eat in Blu. Blu is a separate, much smaller restaurant (no extra charge) that is only available to those sailing in Aqua class. It is only open for breakfast (limited hours) and dinner. For breakfast anyone on the ship can choose to eat anywhere they like but once we had tried Blu for breakfast, we hardly ever went anywhere else.
For me it was the service as much as the food. We were usually among the first bunch of guests to get to Blu each morning (their schedule changed depending on whether it was a port or sea day which was superb) and that meant we had all kinds of servers trying to make us happy. I don't think my coffee cup was ever less than half full as servers were constantly refilling it. And by the third or fourth day the servers knew exactly what we usually ate and drank and they would just bring it.
The breakfast fare was outstanding. Made-to-order omelettes, frittatas, all kinds of baked goods, pancakes and a made-at-your-table muesli cart were all outstanding.
On this 14 day cruise I think we only ate in the buffet two or three times. I should add here that room service is always a possibility but we are not room service people. To us cruising is all about meeting other people and socializing so we just don't do room service. We heard it was just fine.
Lunch
This was a 14 night cruise with only three days at sea. That meant we ate lunch in port on 10 days (actually nine since we didn't tender into Edinburgh until 1:00 pm on our first day there). So we really don't have a lot to recommend or not like. Three of those four days we ate lunch in the buffet. Enjoyed all the variety. Good food, hot, kind of busy on those sea days if you didn't get there early but it worked for us. (The second sea day was the first time I have EVER felt that crowded on an X ship—everything was swamped.) On our last sea day we had lunch in the main dining room with those from our Cruise Critic roll call group. (See above under Cruise Critic Activities.) Because there was so many of us, they offered us a menu with less options than usual but that was fine as they had some excellent pork ribs. It was the only time we ate in the main dining room on the entire cruise. More about the lunches we had in port when I report on our excursions.
Dinner
On every other cruise we have ever taken we ate 95 percent of our dinners in the main dining room (MDR). This time we didn't eat there once. As Aqua class cruisers our assigned dining room was Blu. It is quieter, smaller and more intimate than the MDR. It is also supposed to have more interesting and "healthier" food. I can say that I liked the quieter, smaller, more intimate part but as a person who loves "interesting food" I was disappointed in the dinners. They were on par with what I have eaten over the years in the MDR. Maybe a few more veggies or a slightly different presentation but not enough to make me really want to eat in Blu.
That said I loved the rest of Blu. I thought the service was as good or better than the main dining room and more intimate and since we did not have assigned dining for the first time in our Celebrity cruising lives, we loved being able to just go to dinner when we wanted to. Our usual routine was to grab drinks before dinner with Steve, Jamie, Bob and Holly (sometimes, Tim, Perry and Nancy would join us) either in the World Class Bar or the Martini Bar and then head to dinner in Blu around 6:30. This worked superbly an we were almost always seated immediately. Often they would even reconfigure some tables (most tables are for two but they would slide some together to accommodate the six of us) in no time, just for us. The two hostesses (they really run the place) were awesome.
Specialty alternative restaurants
If you don't sail with Celebrity you may not realize that they have a number of "alternative restaurants" on their ships. The Silhouette has four alternative dinner restaurants; The Lawn Club Grille, Qsine, The Tuscan Grille and Murano. You also might count The Porch (a tiny seafood stand on an upper deck) and Sushi on Five, both of which are predominately lunch spots. These restaurants have an extra charge and you have to make reservations to eat in them. Normally we might eat in a specialty restaurant once, or at the most twice a cruise but this one was different.
Since we were eating in Blu as our regular dining room, and Blu is not open to anyone outside of Aqua class, that meant that if we wanted to have dinner with our buddies Tim, Perry and Nancy, we had to go the specialty restaurant route. So this cruise we did one night in Qsine, one night at the Lawn Club Grille and two nights in the Tuscan Grille. So here's a little about each one.
Before I go into each one separately I just want to say that for those of you who sail with Celebrity or will be, I used to think that you had to reserve as quickly as possible to get the best deal and get a table. That was not the truth on this cruise. When we boarded we went to Qsine and asked what night was available (we were thinking the second sea day) and we got reservations for the very next night, our first sea day, without a problem, with a 30% discount. In fact, we never once paid full price for any of our dinners in any of the specialty restaurants and in most cases, we didn't book them until the day we were going to go or the day before. When we would approach the maitre'd of that restaurant to make reservations we would ask them what kind of discounted price we could get. We were never quoted less than 30% off. By mid-cruise it was common knowledge that any Elite Captains Club member could get at least 35% off in any of them. Don't stress about it. Book them onboard.
Qsine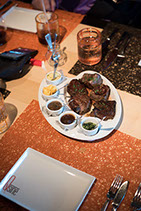 Qsine is my favorite specialty restaurant simply because it is all about interesting food. This was our third time eating in Qsine. We had dined onboard Infinity in 2014 and Eclipse (Silhouette's sister ship) in 2012. You order on iPads. You order for the entire table at once and share dishes. We had nine people in our party so they recommended that we order seven or eight courses and they would bring enough for everyone to try each of the seven or eight courses. We chose seven courses with everyone having input on what to order and they started bringing it almost immediately. The service was awesome and the food was equal to it. They also take a minute to describe each dish as well.
We started with Tresviche which is Tiger Shrimp & Bay Scallops - lemon juice, tequila, cilantro, tomato & jalapeno oil Salmon, yuzu citrus, cucumber, vodka & basil Sea Bass – lime, red onion, choclo and avocado. (My brother and I LOVED this.) Even Kathleen liked the Sea Bass. Then came the Spring Rolls filled with both Baby Back Spring Rolls & Chipotle Coleslaw White Truffle BBQ Sauce and Vegetable Melange, Cilantro, Chipotle Coleslaw Sweet & Sour Sauce. Both were awesome. You can see them close up in my Qsine pics.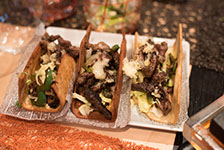 This was followed (in no particular order) by Sushi Lollipops which were Nigiri Sushi, Soy Center, Wasabi Mayo & Pickled Ginger-Radish Salad, Crunchy Munchies, which included Gaufrettes–French Fries – Sweet Potato Strings Vegetable Chips – Potato Croquettes, Spicy Parsnip Crisps "Squeezable Sauces", The Slider Party which included Grilled Kobe beef patties, aged Wisconsin cheddar, "Qsine slider sauce" Brioche buns and garnishes, the Taco Royale (pictured at left) with Black Angus Sirloin Steak home made Tacos Caramelized Onion-Poblano, Cilantro & Mortar Pestle Guacamole and Painters Mignon (pictured above) which is Filet Mignon with palatable pleasing accompaniments.
Of course we also included my favorite course of all which is M's Favorites consisting of (in a cool box) Patlican Salata, Mixed Olives – Tzatziki – Eggplant Imambiyaldi Tabbouleh – Hummus – Chicken Kofta – Zathaar Lamb Chops – Kibbeh Mediterranean Chili – Falafel – Goat Cheese Cigars. Every course was amazing and we were so full at this point (after six course) that we cancelled the final course.
They do serve dessert but most of us took just one or two bites and that was it. My advice is twofold. First, get a BUNCH of people to go together. If you don't sail with friends, find folks from your Cruise Critic roll call or your MDR table. Organize! We would never eat in Qsine alone. Second, order one less course than you think you can eat, or better yet, two less. If you are really interested in Qsine, see all the pics by clicking here.
The Lawn Club Grille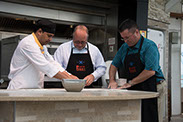 We had never eaten in The Lawn Club Grille before because it is only available on two of Celebrity's ships, Silhouette and Equinox. At The Lawn Club Grille, you help make your own dinner (if you want to). First, you eat outdoors but don't be scared off by that if you think it is too cold (as we did before we went). The area may be outside but it is surrounded by clear, heavy plastic, there are overhead heaters and every chair has a blanket you can put over your lap. I don't think even one of us used the blankets and the temp outside the restaurant was probably below 70. Never felt cold that entire night.
When you arrive and are seated, the staff invites anyone in the party that wants to, to come and make the flatbread appetizers (pizza). Three of our party (Perry, Bob and Steve) made our flatbreads while the rest of us hit the ample salad bar. (It was funny to me that the people who cook as one of their main hobbies—I cook most of the time at home, Tim has taken a bunch of baking classes and Jamie is a award winning baker—didn't do any cooking.)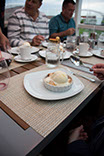 After the salad bar we ordered our entrées, which at the Lawn Club Grille are primarily steaks and seafood. I had a wonderful ribeye and others had filets and I didn't hear anyone complaining about their steaks. The only real complaint I had is that our buddy Seth had told us how great the chocolate chip cookie was that they have at the LCG for dessert. But by the time we got to dessert, we were all so stuffed we could barely try it. I had two bites and that was it. It was (as described) delicious but I left most of it. If you want to see some more photos, click here.
The Tuscan Grille
We had not tried the Tuscan Grille since our first voyage on Solstice way back in 2009. When we went then, we had not been that impressed with the Tuscan Grille. When I cook, I make a lot of Italian food and I like grilled steaks so there was very little to like about Tuscan Grille in the past. Bob wanted to go as he was good friends with a server he had sailed with before who worked in the Tuscan Grille so we said, "let's try it again."
We are glad Bob suggested it as they have really improved the menu. Lots more choices. I can't speak for any of the chicken dishes as many of those at the table ordered them and didn't like them. As for me, some of the best calamari I have had (I don't usually like fried calamari). It was so good when we went back the second time, I had it twice, once for my first course and another plate for my second. Had a seafood pasta dish for my entrée both times and it was also excellent. We would go back again if friends wanted to but I still enjoyed our evening at Qsine and Lawn Club Grille much more.
Alcohol
I can't believe I am going to devout a entire section to booze but I am. (shame on me) Our normal relationship on a cruise with drinks is this: We only drink pre-dinner at the Elite lounge. Usually one or two drinks. They are free because we are Elite. Then at dinner we would order a bottle of wine and if we aren't sharing it, we would have half of it left for another night. (sometimes, LOL) Then maybe we would pay for a martini, a scotch or other nightcap after we finished dinner.
On this cruise we had an included Classic beverage package. It was part of the perks we got free when we booked the cruise on Infinity in 2014. The Classic package gets us what would be known as "well drinks" (in a land-side bar) and a few wines by the glass at dinner. If you aren't Elite it would also get you higher-end coffee drinks (we have to have our lattes) but we already had those included as Elites so that part was not important to us. We had previously had a Classic drinks package included on our Baltic cruise in 2012 and had upgraded it to a Premium package almost immediately upon boarding. The reason for the upgrade is that we enjoy a martini or higher-end mixed drink and those are NOT on the Classic package. The upgrade from Classic to Premium is only $11 a day (at the time of our sailing) and that was almost exactly the price of a martini that became immediately included. I should also add here that we had a BUNCH of On-Board Credit (OBC) that we had obtained from both a special offer we got when booking and my use of our Celebrity Visa card so this really cost us nothing.
All this completely changes our daily routine. We no longer bothered with the Elite lounge, (which on this trip was a good thing as my brother and his wife are not Elites so we would not have been able to have drinks with them). So now our routine changed to pre-dinner drinks in either the Martini Bar or the World Class Bar and then wine by the glass (lots of choices included on the Premium package) at dinner followed by more free drinks in either the World Class Bar or the Martini Bar after dinner (but only some nights—we aren't total lushes).
The Martini Bar
We are part of a group called the Martini Mates, composed of our best friends we have met cruising. This group started long ago in the Martini Bar on the Infinity but oh how our tastes have changed since then and how Celebrity has changed the Martini Bar. Today I can say I like the Martini Bar a lot less than I used to. I say that our tastes have changed because I used to like the martinis served in the Martini Bar, but now I find 95% of them sickeningly sweet. My tastes now lean to much drier drinks so for that reason we seemed to wind up elsewhere for drinks. That and the fact that Celebrity has turned the Martini Bar into a loud and obnoxious place to sit and have drinks by adding what I like to call electronic thump-thump music that pretty much negates any chance for conversation that can be heard without yelling. I know that Celebrity is trying to appeal to a younger demographic and that many people like the thump-thump music but it did limit us to only 3 nights when we actually visited the Martini Bar and that's just sad.
The World Class Bar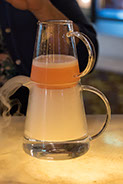 When we were on Eclipse in the Baltics in 2012 we discovered the Molecular Bar which we loved. It was located one deck above the Martini Bar and without the thump-thump music. Back then, they made some really cool concoctions that we really liked but X in their amazing wisdom (see sarcasm here) has removed the Molecular Bar and replaced it with the World Class Bar that is partly sponsored by a liquor company. That's not to say I didn't like the World Class Bar (WCB), because I truly did. No thump-thump and a pretty amazing (if limited) menu of drinks. We wound up meeting there most nights for pre-dinner drinks and probably will again on Solstice next summer when we sail with the Martini Mates to Alaska.
I should mention that we also tried the Ensemble lounge one night (it's on the way to the Blu dining room) but they keep it so dark it is hard to know who you are talking to (more sarcasm) and there is often live music and we like to converse so while it was nice, it wasn't our first choice.
All the other stuff
I haven't mentioned a bunch of stuff we don't do that is a huge part of many cruise reviews. Things like the shows, the port lectures, the activities, the late-night dancing, etc. Some of those are things we might have done on a cruise that was not as port-intensive as this one. Most nights after dinner we were in bed by 9:00 because we had to be up early to tour the next day and had been touring all day that day.
We went to one show (the first one where they show you a little bit of all the entertainers that will be on board during the cruise) and the first act was the world's worst magician. I am sure his magic was fine but his presentation was next to being incoherent and we could barely understand him so we were out of there in about 10 minutes. We also stopped by another of the production shows and lasted about 20 minutes. They just don't do anything for us and by that time we are so tired (and have had so much to drink) and have to get up so early the next day that we just skipped all the late night activities…as did many as we only heard about a few that we had missed.
Disembarkation
This was WORST part of the entire cruise. No, not the process of disembarkation. That was probably the easiest one we have ever experience. No, it was the WORST because they MADE US GET OFF THE SHIP. It was a superb cruise and anyone doing it in the future should have a wonderful time.
Our taxi arrived exactly on time and we were off to Schiphol airport for our long wait (until almost 3:00 pm) for our KLM flight to Heathrow. We spent the night at the Hilton at Heathrow Terminal Four and the next morning flew British Air, first class, non-stop to Seattle. The hotel was very nice and the flights were fine. By that time though, I had developed quite a European cold that I am still fighting three weeks later as I write this.
If you are reading straight through the whole site, click here to go to Ports of Call.