As I mentioned, (on the About the Trip page. You did read that first, didn't you?)we had never been to Amsterdam before so we decided to go for a few days before the cruise (which departed on Saturday, August 6). Since we book our airfare with miles booking it is an adventure. You try every day for a couple of months until you get the flights you want. We were looking to use our Alaska Air miles on one of their partners, British Air from SEA to AMS in First Class…for very little actual cash. This meant that when we finally found seats it was a one-way flight with a stop at Heathrow on Sunday, July 31 which means we had almost a full week in Amsterdam and I am so glad we did. The city surprised me with how much I enjoyed it. I especially loved the way I could pretty much walk any place, especially staying in the hotel that Kathleen found…The Banks Mansion. More about Banks below.
Our flight and arrival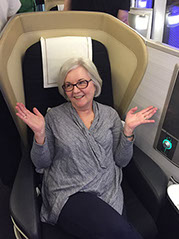 We booked (using Alaska Air frequent flyer miles) two first class seats on British Air, one-way from Seattle to Amsterdam via London-Heathrow. (Yes, we did come back—more about that below) The flight left at 1:55 pm, right on time. We had some problem with our connecting flight at Heathrow but we eventually made it to Schiphol Airport in Amsterdam only an hour after our scheduled arrival. We had prearranged a town car online using the land transportation link on the airport website with a company called Talixo who made the arrangements for both our airport pick up at the start of the trip and drop off at the end.
The airport has a wonderful thing called "The Meeting Place," a giant red and white checked cube in the center of the terminal where drivers meet their riders and you can meet anyone you prearrange with. Our driver had texted me that she would meet us at this spot. She did, and we jumped in her car and were off to the Banks Mansion. I can highly recommend this method of getting into the city. Cost was around $30. Worth it with all our luggage which would have been tough on the Schiphol train. She got us right to our hotel in less than 30 minutes. Click here to see photos from our flight. Coming back the service we booked for transport brought a van because there was four of us going to the airport. They were on-time and wonderful to work with.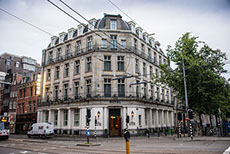 Let me just say this right now: The Banks Mansion is now my favorite hotel ever. There is no way I would go to Amsterdam and not stay there. It was pretty much outstanding in every way. The Banks is an old bank that has been converted into an outstanding boutique hotel. Here are some of the reasons I loved it so much:
Location, location, location. They say this is everything when it comes to business and when it comes to hotels in Amsterdam, the Banks has it in spades. It is smack dab in the middle of the city. Head one way, you are at the port, head the other you can visit the world-class museums. There are hundreds of outstanding restaurants in every direction.

The beds. Ahhh the beds. These were the most comfortable hotel beds I have ever slept on. Hands down. And the room was pretty good size for a European hotel room. Bigger than our cabin on the ship, so we were happy.
The breakfast. This hotel is almost all-inclusive. That means although they don't feed you dinner they do give you an amazing breakfast…in the nicest basement restaurant you have ever been in. The basement breakfast room has faux windows that add some beautiful (almost natural) light. If you were taken there blindfolded you would never know that you were in a windowless basement. And you are there to eat one of the best breakfasts ever. Not only did they have a huge buffet they had eggs and omelets made to order, freshly-squeezed OJ from the coolest machine ever (you put whole oranges on the top and it squeezes it as it fills your glass and since the front of the machine is clear plastic, you see it all happen.) In many cases you could eat a huge breakfast (never any limit on how much you could eat) and make it all the way to their wonderful wine and cheese at 5:00.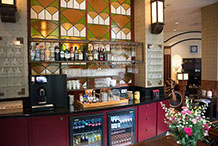 Wine and cheese. Not only was there breakfast but somewhere between 4:00 and 5:00 pm each day, out came the wine in the lobby (which they call the "living room") and about half an hour later an amazing array of Dutch cheeses, sausages and other treats. One night we were offered an outstanding soup, another night the Dutch delicacy Bitterballen. And since so many people from our Cruise Critic roll call were staying at the Banks we pretty much took over the "living room" for the nights we were there. It was a wonderful place to meet and compare our day with the rest of our fellow travellers.
The staff. Most of the staff that we met were around the same age or younger than our kids(under 35) and some of the nicest and most well-mannered, helpful people of that age we have ever encountered. They were quick to help us do almost anything we wanted to do from big (dinner reservations, helping us to our room with our luggage) to small (when I asked where I could buy postcard stamps nearby, the young lady at the desk immediately said she would take care of it for me and took the cards and mailed them). From the moment we checked in until they found us cabs to the ship on a busy Euro-Pride Saturday, they were awesome.
All in all, I can't say enough good things about the Banks. Was it expensive? Yes. We spent a little more than we might have normally spent but WOW it was worth every penny. And I should say that everything was REALLY included. When we checked out the only things on our bill was the exact amount quoted in advance and a tiny charge for those postage stamps. That was it. And, if you book directly with the hotel (instead of through Expedia or hotels.com for instance) they may have a really cool gift for you to take home. Ours is hanging on our wall.
Food and restaurants
We ate dinner in four different Amsterdam restaurants over five days. We skipped dinner one night because we had taken a food tour and we were stuffed but more about that later. For our dinners we relied on the recommendations of Kathleen's daughter Michelle and her husband Brian. They had been in Amsterdam a few years before and they had loved three of the places they had been for dinner. Since Michelle is quite the gourmet (she has even written a cookbook) we knew we would love the food. All three places they told us about were outstanding and we recommend them to you. You can see pictures of these restaurants in our Amsterdam photos. Links are above right.
Please note that the names of restaurants below are all links to the restaurants websites. We made reservations with all of them almost six months in advance and since we were in Amsterdam during Euro-Pride, we were glad we did.
Dinner night one: Cafe George Amsterdam
This is a bistro type place that turned out to be about a 10 minute walk from the Banks. We were just off the plane so it was nice to unpack and head out for a quick bite. Had burgers/sandwiches and Amsterdam French fries which we had heard was served with mayo instead of ketchup so we tried those and had a very nice meal. (I still like ketchup better.)
Dinner night two: Restaurant Zazas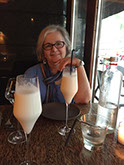 This was the best food I had on the entire trip. This tiny little place was a 20 minute walk from the Banks, in the museum district. Run by two young women who served us and about 30 other diners sitting in a row of two banquettes. Reservations are a must as we told others about it back at the hotel and they could not get in over the next three nights. We were served one of the most awesome cocktails ever. It was served in a champagne flute and it had prosecco, vodka and limoncello sorbet. Like a pre-dinner alcoholic milk shake. Had a wonderful amuse bouche, great appetizer and wonderful entrées. Service was impeccable and we would not even think of going to Amsterdam again without having dinner at Restaurant Zazas.
Dinner night three: Restaurant Haesje Claes
By our third night we were joined at the hotel by my brother Steve and his wife Jamie. We had held off until this night to try traditional Dutch food for dinner. Brian and Michelle had recommended Restaurant Haesje Claes as the place for traditional Dutch food and they were right. What a great choice. We tried stampot, beef stew with red cabbage, mashed potatoes and apple compote, carré (rack) of lamb with white cabbage "stamppot" & Port sauce and so much more. An amazing meal in a restaurant (again less than a 10 minute walk from the Banks) that has been serving dinner in the same place since 1520. 1520!!! A great meal and one we would do again just for the atmosphere but the food was great as well.
Dinner night four: Aneka Rasa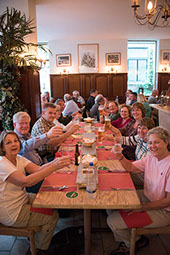 Before we started doing research for this trip we had no idea that Indonesian food was such a part of Dutch culture. The Dutch colonized Indonesia and many Indonesians came to live in Amsterdam and started "Rice Table" restaurants. Someone on our Cruise Critic roll call had offered to put together such a dinner on the night before we sailed for everyone on that roll call at the time. After finding that any restaurant she contacted wanted a deposit, she decided it was too much for her so I took it over. Click here to see photos from our Aneka Rasa dinner.
I did some research with Rick Steves and other European specialists and found Aneka Rasa. They could fit 50 of us (and at that time we only had about 30 on the roll call). We had to pay in advance so I offered to front the money and have everyone pay me via PayPal before we left home. This worked out great and the night before we sailed 50 of us met at Aneka Rasa. The food was outstanding, the service good (hard to handle a party that size) and we had a great time with 48 of our newest and closest friends. Amazingly everyone showed up and we basically took over the entire restaurant. I would highly recommend this restaurant. Deal with Jerry through their website and via e-mail was easy. He and his staff did great by us.
Amsterdam Activities
We had well planned our days in the Netherlands and here is what we did. Some was good and some was so-so but really only made that way by the weather. Only one, I would not do again. Many I would do again in an instant.
Day 1: Rotterdam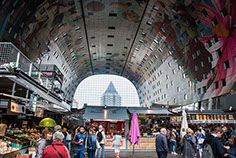 A good friend of ours is a cruise nut like us (as well as our local weather guy—Hi Seth) and he had recently been to The Netherlands on assignment. He got to cover the launching of a cruise ship. (Lucky guy!) When he got back he told us how much he had enjoyed Rotterdam so we decided on the day before my brother and his wife got to Amsterdam we would take the train for a 40 minute ride up to Rotterdam. Only problem we ran into was the rain. It literally poured all day. But we did see some amazing architecture, ate lunch in an incredibly cool, one-of-a-kind food market, toured a very neat library and the original home of Holland America Cruise Lines. We didn't stay the entire day but the train ride was a true adventure (a wonderful Italian family on the way there and we got lost on the way back and wound up at the airport) and we did get some great pics. You can click here to see them all. Make sure you do as the architecture is very cool.
Day 2: Shopping and hanging out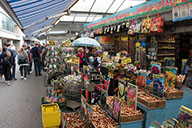 We didn't want to go to far from the hotel since Steve and Jamie would arrive in the early afternoon so we started our day by going to meet two people we had not yet met in person from our Cruise Critic roll call who have since become very good friends, Bob and Holly. Then we checked out the flower market, Dam Square, bought European beer (that you can't get in the USA) to take home to Brian and Michelle (who had taken us to the airport and picked us up and took us home) and made it back to the hotel to welcome Steve and Jamie in the afternoon. They arrived, loved the hotel, we did the wine and cheese thing at the Banks went to dinner at the aforementioned dinner at Restaurant Haesje Claes. Click here to see our photos from Day 2.
Day 3: Anne Frank House and Jordaan Food and Canal Tour
We had pre-planned two things for this day. We had obtained (after MANY hours of trying online) tickets to see the Anne Frank House at 8:45 this morning and we had scheduled a food tour of the Jordaan neighborhood starting at 10:30.

First, you have to go! There were two things on this trip that were MUST SEES—The Edinburgh Military Tattoo and this. But, it is imperative that if you want to tour the Anne Frank House anytime before 3:30 pm that you have tickets that are obtained online in what I see as the most frustrating ticket purchasing plan I have ever been involved with. First, they don't release the tickets until two months before the date you want them for. Second, even on that day you are likely to find that there are NO tickets available. I know. For days many, many people on our Cruise Critic roll call tried for tickets. We really wanted to go first thing in the morning because the food tour started at 10:30 about a block from the Anne Frank House.
But I had such a hard time finding anything for this day that I ended up purchasing tickets for the next morning which was a time I did not want. We had to do this to insure we would be able to see the House. I ended up selling the first batch of four I bought to others on the roll call, when I was suddenly able to grab the tickets for the time I wanted. All I can say is…keep trying. You will eventually get them and it will be worth it.
Kathleen and I had both reread Anne Frank's "The Diary of a Young Girl" before the trip so it was very fresh in our minds. It is a combination of horrid, awful and terrible but it is something that every single person in the world needs to see so that it NEVER happens again. If you go to Amsterdam, this is the one thing you must see. The tickets are not expensive and the tour will use up less than 90 minutes of your time (it is a self-guided tour with a wonderful visitor center at the end of it) and stay with you for years afterward. They have done a remarkable job and I can't stress enough that it is a must-see. After the tour we took a leisurely walk down the canal to our food tour.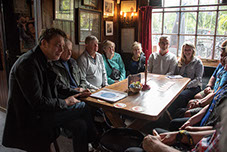 We had pre-booked the Jordaan Food and Canal Tour with Eating Amsterdam Food Tours and we met our guide Rudolph at a very cute little tavern. The food tour is spendy but when it was all over, we thought it was an excellent value. We toured the entire Jordaan area on foot, stopping at least six places to try foods of Amsterdam. We started with Dutch apple pie, went on to try food from Surinam (another of the Dutch colonies), sausage and cheese, chocolates, pickled herring, deep fried fish, took a canal ride on an antique boat (the original canal boat—gorgeous) where we were served champagne, bitterballen (a dutch delicacy), beer and cheese (you will never eat as much cheese as you will eat in Amsterdam) and more. It was a great tour and well worth the money. Not only that, but Rudolph was an art history teacher who told about so much more than food. This is another tour I would not miss if going to Amsterdam. And if you have been on this tour before, the company has other food tours. Kathleen and I have recently started booking food tours when we travel.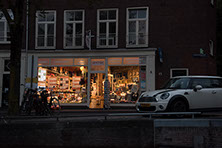 After this tour we rolled back to the hotel (or at least waddled) and just relaxed for the balance of the day until late that night when we headed out for a moonlight canal cruise with Lovers Canal Cruises. (Normally, I would have a link here to their website but we were so disappointed with them, that I won't endorese them.)
The canals are amazing but I would NOT do this particular cruise again with this company. For some reason they feel that because it is at night, you don't want to see the sights but would rather sit at table in their cabin and drink wine and eat cheese. You are seated (on the boat) at assigned tables. Six good sized people (which we all are) cannot sit at these tables comfortably. There are immovable benches and you are basically crammed into the seats on either side of a table. (Think bad high school cafeteria) Not a moment of comfort and as you will see if you look at my Amsterdam photos, I really wanted to take pictures so that meant I excused myself from the table and went and sat at the back of the boat where the poor girl who was trying to serve all 100+ people on the boat was using as her pantry. This was also the smoking section so I couldn't stay out there for long.. I kept getting in her way but it was the only place I could go to take any photos at all that were not obscured by the painted and dirty windows.
The cruise was a nice route but if you want to take one, do it with a different company. This one does not get it. No one wants to be crammed into a seat facing three other people they may not know while trying to look through painted and dirty windows at the canal they paid good money to see. Skip this one or find a different company.
You can click here to see our Amsterdam photos from day 3.
Day 4: Museums, Museums, Museums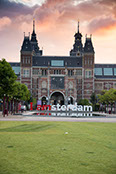 This was our last full day before we boarded the ship for our British Isles cruise so I got up really early and headed out to see how far it was to the Amsterdam museum area. If you have never been there, you may not know that there are at least three, if not more, world-class museums in a four block area just outside the city's core. It took me less than 15 minutes from the Banks to walk to them. This is also where you will find the Iamsterdam sign that you may have seen in a lot of Amsterdam advertising. I was rewarded for getting up early by maybe the best sunrise photos I have ever been able to capture. Postcard-worthy if I do say so myself. I will let you be the judge. I can take credit for some of the incredible shots but Mother Nature gets credit for the sunrise which was majestic.
After that it was back to the hotel for that amazing breakfast and then off to the museums again with Kathleen, Steve and Jamie. We started with the Rijksmuseum, the largest of the three and most majestic. It is the home of many of the greatest works of the Dutch Masters.
Click here to see our Amsterdam photos from day 4.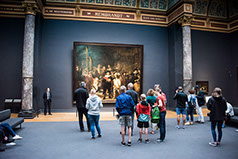 Normally we do not spend a lot of time in museums when traveling but we have made time for the greats like the Louvre in Paris and Uffizi in Florence, the Vatican Museum and others. This was one of those. And in some ways I found it superior to many of the other world-class museums we had visited. The Rijksmuseum gets it. The art is displayed beautifully in a building that itself is a work of art. Rembrandt's most famous painting, "The Night Watch," is the highlight of the show and they do a magnificent job with it.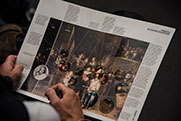 One of my favorite things the museum provided (that I have never seen in any other museum) were large (11 x 17) cards, in multiple languages which explained the detail, history and provenance of the painting. We found them throughout the Rijksmuseum on any piece of art that merited one. I learned so much from them and it made our visit an extended stay of almost three hours. That is the least amount of time I would want to spend at the Rijksmuseum.
Other museums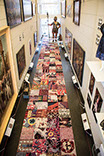 We had purchased a Holland Pass before heading to Amsterdam. This gave us a number of freebies and the Rijksmuseum was one of them. With the Holland Pass, if you buy at their highest level you get three "golden" admissions, 3 "silver" admissions and a transit ticket good for a number of choices. The pass not only gets you admission to the attraction but it also gets you to a different line which sometimes is a much faster way to get in the door of where you want to go. This had been true for the Rijksmuseum where the pass had put us to almost the front of the line. The Rijksmuseum used up one of our "golden" tickets (Why do I feel like I am writing about Willy Wonka here?).
When we left the Rijksmuseum our next stop was going to be the Van Gogh museum which was a few steps away (literally). But upon arrival we were told that wait with the Holland Pass (or any other pre-purchased ticket) was more than an hour and those without could be waiting for more than two hours. Kathleen and I had seen plenty of Van Gogh's in traveling exhibitions so we decided to skip the line and turn to the Modern Art Museum, the Stedelijk Museum which was right next to the Van Gogh and which (at that time) had no line. The Stedelijk was interesting, if small and from the outside looks like a giant bathtub. It was a "silver" level ticket from our Holland Pass.
After our tour of the Stedelijk Museum we grabbed a quick lunch in their restaurant and caught a cab back to the Amsterdam Museum (tells the history of Amsterdam) which was a short walk in the opposite direction from Banks than we had gone for the art museums. I found this museum to be very interesting for a short time but one that you can easily get lost in and one that does not have a logical progression once you have reached a certain point in Amsterdam's history. Upon entry you are handed a device for an excellent audio tour that is part of the admission but when that tour runs out, you are still in the middle of the museum and getting out or getting to someplace that you can see but can't figure out how to get to can be a real pain. (I know that last sentence is kind of nuts but that's how I felt in this museum.)Eventually we made our way out and headed back to the hotel to relax before our big rice table dinner at Aneka Rasa that night. In the meantime, two more of our seven, Tim & Perry had arrived from Toronto and we couldn't wait to see them back at the hotel.
This pretty much concluded our Amsterdam touring. The next morning I walked (at a very early hour) through the downtown core and Dam Square to get to the cruise terminal and take a photo of our ship, Silhouette that we would board later that morning. (Click here to see those photos–they are some of my favorites) It's a cruise embarkation day tradition for me and I got to share it with my new buddy Bob who also does the same thing, except he takes movies and not stills as I do. That hour plus walk through the city (which had never stopped partying from the night before—did I mention the we were there during Euro-Pride, the largest gay and lesbian celebration in all of Europe?) was a superb way to end a visit to a city I look forward to returning to because there is so much I still need to see and so much I want to do again…including staying at the Banks Mansion.
I will cover the rest of our transit to the ship and the embarkation in the cruise section of this review.
If you are reading straight through this website/review, click here to go to my review of our Silhouette cruise.