A really nice cruise with only a few blips
This was our fifth time to Alaska but our first time going there on Solstice and we were going with all our Martini Mates and I can actually say it was a GREAT cruise with only a few blips on the part of the Celebrity. Here's our review.
Embarkation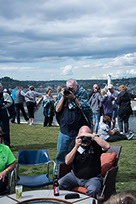 On the morning of embarkation (June 16, 2017) we were all (16 of us) either at our home in Redmond, WA (a Seattle suburb) or at a nearby hotel. At 9:15 we were picked up by a wonderful new shuttle service (new to us) that Mike had found from all the way down in Florida.
First, I can't say enough good things about Seattle Express shuttle service. I dealt (via e-mail) with Matt, their manager who was AWESOME! Got back to me with pricing, routing and pretty much every question I asked him in what seems like an instant. His driver was on-time, every time (they took us to the ship, took us back to our place after and then took some Mates to the airport that afternoon). Click here to go to their website. They also do guided tours so if you are here on a shore day (as opposed to embarking or disembarking) that might be a possibility. We have not done one of their tours but if they are as good at tours as they are dependable, it will be a great tour. I would love to hear from someone who has done a tour with them. Please e-mail me if you have and let me know how they did.
They got us to the port in record time and we had been reading on Cruise Critic that getting into the port and getting on board for the first couple of Alaska cruises had been problematic to say the least (we were hearing about hour and a half delays in the waiting lines) but that did NOT happen to us. From the time we drove into the line to unload until we were onboard the ship sipping mimosas was about 40 minutes flat. It was amazing. Our shuttle parked, a porter grabbed all the bags for 16 of us, we headed in, got scanned, got our seapass cards, had our picture taken (that didn't come out very well—more about that later) and were onboard in no time.
Onboard
Once onboard we hung out for a few minutes in the Martini Bar while I went to check on our main dining room seating. Being a party of 16 we were worried that all our reservations had not been linked and I am glad I checked as they weren't. If you are in the same boat, just go to the main dining room on deck four and there you will hopefully find the wonderful Tiana who was quick to assist me in moving our entire party to a table for 10 and a table for six right next to each other. Each night we took turns sitting at the six top (because to be honest, 10 is too many at a table). Having the same excellent waiter helped with that immensely.
After I had taken care of that, a bunch of us headed up to the mostly empty (at that point) buffet for lunch. (More about the food below.) After lunch we were thrilled to hear that our cabins were ready (at about 1:00 pm) so we headed down to drop our carry ons and check the cabins out. We were in 6209, a forward facing hump cabin with bed by the door. Our luggage arrived by 2:30 and then we were off to the muster/lifeboat drill. Our station was the main dining room and since much of the presentation is now on video, that was fine.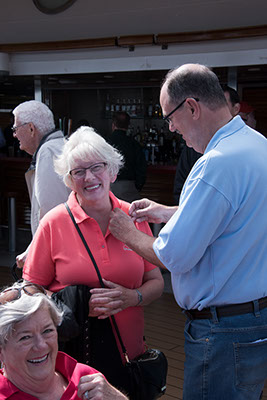 But let's talk about those videos for a minute. I am sorry to even mention them. There were two. The first was a sing-song piece that looked like it was made for five-year-olds, about washing your hands. The song is still stuck in my head as I type this. My buddy Bob who has a movie of the song sent it to me the other day and stuck it back in there—thanks Bob. We had seen this one before and we still find it childish. Why not just say, "Wash your hands so we don't get norovirus on board." We are all adults except for the kids and their parents can tell them.
But the one we hadn't seen almost made us understand why cruise prices are going up. Someone in the marketing department at X must have gotten the idea that to make us listen to directions about lifeboats we needed a Hollywood spy film. That film must have cost a fortune to make. How about having the old lifeboat spiel that worked for at least 20 years and then give us all back $10. It had to have cost that much (not $10 for each person on our cruise but $10 times all the people who cruise X). Ridiculous.
We followed the viewing of these cinematic masterpieces with a wonderful sail-away party (under cloudy skies) in the Sunset Bar. We added five new Martini Mates who got their pins and that's a great way to start a cruise.
The Good stuff
Let's divide the onboard stuff into good and bad. Yes, there was some bad but let's look at the good first. I want to start by saying that Solstice is in great shape. We were on her eighth cruise the year she was launched (2009) and she is pretty much in the same great shape. I will remark that some of the stuff in the cabin could use some upgrading (the TVs are next to unwatchable at their LOW resolution but that's probably because we are all so used to our HD models and why watch TV on a cruise?) but most of the ship was looking good.
Service
Celebrity continues to provide what we believe is some of the best service in the world. Her crew is second to none and her captain should be proud. Check the dailies by clicking the link at the top of the page to see the ship's officers on page six. We would especially like to single out some great crew members who went above and beyond to make our cruise AWESOME! Our stateroom attendant Jacinto, our waiter, Savio, our assistant waiter Jose, our sommelier Nelson, Valeria in the Ensemble Lounge, Milena in Cafe al Bacio, Tiana in the MDR, Ryan on the activities staff and so many more who were wonderful to us all week long.
Activities
There was plenty to do. I have scanned all the dailies (the list of things to do for those of you new to cruising) and put them online. Click here to see them. We (a bunch of the Martini Mates) are trivia junkies so we never missed a trivia session. All were pretty good and no one asked who had "discovered" nylon. (Sorry, it's an inside joke.). Lots of great prizes including tee shirts, wrist bands, decks of cards and more. Can you tell we won a bunch. On sea days the sessions were WELL attended but on port days we were often the only ones there, or Bob and Holly were.
The gym
I used the gym every morning and was VERY impressed with Solstice's gym and the staff who work there. Always clean, open on time and four upright stationary bikes to choose from for me, all in good working order. And as usual, on day one in the morning it was packed at 6:00 am and by morning seven, I was pretty much alone.
Shows
I should say a word here about the shows after dinner but we aren't big show people when onboard. I think one reason is that we cruise to socialize (we both work in pretty isolated jobs) so we rarely go to the shows. If you want to know more about the shows, check out my buddy Mike Preisman's review by clicking here (it will be up soon if you don't find it). I will say that there was no show on the first night. There was an Alaskan presentation instead. Usually X (how us old cruisers refer to Celebrity) puts on a sample show of the other shows that will be coming that week.
We did attend the second night's show, which was a production show called "Broken Strings," It featured a lot of songs I have never heard (yes, I know I am 64) sung by singers who to us and everyone around us in the audience on the upper tier of the showroom were unintelligible. Either they were mumbling or the sound system was going bad. I believe the former to be true. I should add here that another member of our party who was sitting on the main level, LOVED this show so certainly beauty is in eye of the beholder.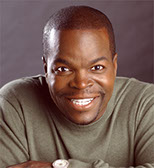 The only other show we went to was a comic who came aboard in Ketchikan. His name is AJ Jamal and he was hilarious. He was billed as a "clean comic" and he was. But still funny. Everyone with us at the first show thought he was hoot and just cackled but the same friends who had loved the production show hated him. Who knows?
Other shows during the week included a different comic (only did a late night/adult show), a Beatles tribute band that others told us was superb, another production show (Sixties music—I should have gone) and a Cirque-type acrobatics show. See the Dailies for a full description of all of these.
BTW: If you want to see pics of all the shows check out my buddy Mike Preisman's review by clicking here. He takes pics of all the shows.
Notes on dress and pax
I want to add a little bit about something that surprised us. We were told by officers that this cruise had more than 1500 (out of 2600) first-time cruisers on board. This is pretty usual for an Alaska cruise. It's the reason that our Cruise Critic roll call was so small—those folks haven't discovered Cruise Critic yet. This was pretty evident during most the cruise when those of us with multiple cruises under our belts watched the new folks wandering about with their mouths hanging open with wonder.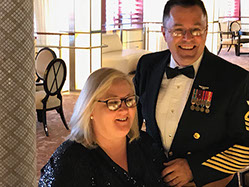 But what really surprised me was when we got to night number two. X has done away with "formal nights" (which we miss) and replaced them with "Evening Chic" on two nights on a seven night cruise. Five nights call for "Smart Casual." You can see descriptions of these on the first daily. We (our group of 16) were divided on this and ended up with 5 of the men in tuxedos, and three just in shirts or jackets. That was fine with us. Some of us (me included) love dressing up so we went for it. What surprised us on the first "Evening Chic" (or as Paul calls it shabby chic) night was the number of other cruisers in formal attire. We had bit of a different experience on the next "Evening Chic" night but I will leave that for later. It was just nice to see so many people dressed for dinner and later around the ship. At our table, our newest Mate won hands down for classiest formal wear as he is a long-time Chief in the US Navy and still on active duty so he wore his dress uniform and WOW did he look great. That's him with his beautiful bride Holly in the picture. See what I mean?
The Food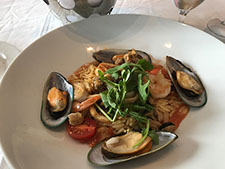 I had heard from a friend who went to Alaska on Solstice last summer that the food had not been up to par. That was NOT our experience. We enjoyed almost all the food we ate. In fact, I enjoyed it all but some others in our group had assorted problems with it. More about that later.
We ate all but two of our dinners in the Main Dining Room (MDR). Had some great meals there. Seafood, pasta, prime rib and lots of other great stuff. The menu shows two courses (appetizers and entrées) but most people would order an appetizer from that section of the menu and then a soup or salad from the same section. I almost always started with escargot which I love and only eat on ships (it is available every night along with other appies and entrées), followed that with another appetizer or a shrimp cocktail (always available). And then dessert after all that. Every night. No wonder I gained four pounds. I would have gained more but I make it a policy that I never take an elevator on a 16 deck ship so I know I ate a lo and worked off a lot. And they just keep bringing us their outstanding bread (especially the breadsticks)!
We ate most lunches in the buffet but did have one at the deck 14 hamburger bar in the sunshine while in Ketchikan and the last day of the cruise we had lunch in the MDR. Breakfast was usually in the buffet which was fine except on the day we were doing glacier viewing and then going on to Juneau. It seemed like everyone went there at one time for both breakfast and lunch which made for a maddeningly slammed buffet. We ended up in the Aqua Spa cafe eating while sitting on the edge of the pool area.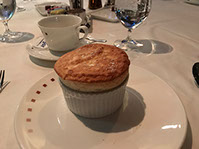 We did two dinners in specialty restaurants. All 16 of us went to Murano for a special dinner. It turned out great for eight of us who were sitting at a table where our server turned out to be an old friend of Bob and Holly's which meant we got incredible service while the other table of eight got a server that never came back. Took their orders and disappeared. And Paul (at the other table) had the "made tableside" whole fish which was cold by the time he got it. Sad and very unCelebrity like.
On the last night of the cruise about 90% of the ship went into Victoria at 5:30 when we docked. But those of us who stayed behind were all relegated to one part of the dining room on one floor, open seating. We were also disappointed to find out that much of the rest of the ship was closed down as well. Kind of ticked us off that even though we were not going into Victoria, X decided that our cruise was mostly over. We were able to go to the Tuscan Grille for an Italian meal which was neither good nor bad. We enjoyed ourselves because of the company, not the food or the service. Only a few lounges were open after dinner and that was sad. Solstice also still features the Asian cuisine restaurant (Silk Harvest) which I wish they would dump and put in Qsine as they have on all their other S class ships.
Ports—Ketchikan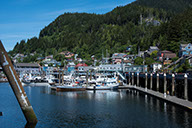 I am pretty sure I mentioned before that this was our fifth cruise to Alaska. When you live in Seattle, an Alaskan cruise is one of the few you can do without having to pay to fly. So while we have cruised in Europe, Asia and Down Under, when we want to hit a ship for a quick week at our favorite moving hotel, we do an Alaskan cruise. Besides, neither of us like the Caribbean so that is out for us.
The last three (including this one) times we have gone to Alaska, I think we got off the ship a total of an hour (if you don't count Skagway on this trip). For that reason (except for Skagway) we can't give you a lot of info. In Ketchikan we can say that we had AMAZING weather. It was sunny. On four previous cruises, when we did whale watching, flight seeing, etc., it poured rain as it does so often in that town. Like all but 20 days a year. But as my fellow Mate BSeaBob says, "We got a tan, in Ketchikan." So we got off and walked the gang over to Creek Street area since we had bee there before. We got them there and headed back to the ship for a hamburger and a beer out on deck 14 with Bob, Holly, Mike and Carol.
Ports—Juneau
In Juneau, we had gotten up early to see the glacier so by the time we docked in Juneau we were pretty tired. As Elite Plus members we get a free day in the Persian Garden (steam rooms, hot benches and more, in the spa) so we stayed onboard and did that.
Ports—Skagway and some opinion about ports in Alaska.
We had not been on a cruise that stopped in Skagway since our first Alaskan Cruise in 2000 so when we got there we were looking forward to getting off and walking around and even though I got talked into a tour with Skagway Alaskan Street Car Company there is something I need to say about the Alaskan ports in general. More about the tour in a minute but I want to say something about all these ports but it was especially notable in Skagway because we had not been there in 17 years.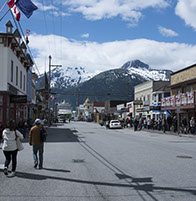 We had seen this happen in Ketchikan and Juneau over the years but we saw it happen gradually so we really didn't notice how bad it had gotten, but since we had 17 years between visits to Skagway we really noticed the change here. The cruise industry has ruined the Alaskan ports. When we first went to Skagway in 2000 it was a nice small town with lots of local business people selling fun and interesting things. You got to talk to actual Alaskans. You didn't see a single Diamonds International, Alaska T-shirt company (with the same products in every town) or any of the many other cruise-attracted businesses who have come to Alaska from the Caribbean and taken over the tourism retail industry. When we were there in 2000 there was one ship with 1500 people on board in port the day we were there. When we arrived this time, there were four ships in port, each with more than that 1500 people. Solstice was the biggest and when we arrived the town doubled in size just from us being there, forget the other three ships. It was just too much.
We walked through town and found it hard to stay on the sidewalk and we seemed to be jostled with every step. We did have a chance to visit the Skagway City Museum (a really nice place with clean bathrooms) where we spoke to a local who told us that the Park Service (who owns most of the historic buildings in town) would refurbish a building and when that building went back on the market to rent, the rents had sky-rocketed to a point that the local business people could not afford to rent them. At that point, the Caribbean-like chains swooped in with imported workers who just come for the summer and sleep in trailers, tents and RVs and rented the stores. This is NOT supporting the local economy. This is economic imperialism at its worst.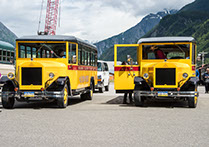 We went out of our way to spend our money at locally owned businesses and we hope you will too. Have a beer and lunch at the local brewery (Skagway Brewing Company—great beer and delicious chili), visit the local museum and take a cool bus tour with Skagway Alaska Street Car Company. I was so disgusted by the time we decided to book this, I just wanted to get back on the ship but my wife, brother and sister-in-law (new mates Steve and Jamie) talked me into this tour and I loved it. Owned and operated by locals, this tour (where you are driven around in big yellow Yellowstone-like buses) was super! Go do it. Look for AB (That's our guide's name). She does an amazing tour. So much fun. She will be there. She lives there. Not only do you get a cool tour but you get so much info about the town and the people and the history that it a tremendous amount of fun and a great value.
I have never taken a somewhat political stance in a cruise review before but I want to urge each person reading this if you are new to cruising or been cruising for years, to please BOYCOTT these damn chains. I am sure there are better jewelry stores in the town where you live. Just as I am sure that you can find Alaskan tee shirts at locally owned stores. Please take tours with local tour companies like the one we did. And we know you can find a better lunch than at a chain restaurant. Don't even go inside. Don't get their free stuff. If we stop buying from these companies, they will go away and give Alaska back to Alaskans. In the future, if go to Alaska, I will only patronize local businesses. We hope you do the same.
Victoria, BC
Sorry, I can't say very much about this port because we stayed on the ship, ate dinner, packed and went to bed. We live less than 110 miles from Victoria and have been there many times before and are going back in August to celebrate our anniversary. Most of our party that had never been there before took the ship's tour to Butchart Gardens and if you have never been there before, it is a MUST-SEE!
And now the bad stuff—Hey, I'm a Cruise Critic, right?
We love Celebrity. We must, we have taken 17 cruises on their ships, we are sorry to report that they had some real problems on this cruise but thankfully they were isolated incidents.
For instance, the last day of the cruise we were subjected to the terrible service of a waiter (who is nameless here but was reported to Celebrity) at lunch in the MDR. He was very condescending, in a huge rush (took our plates while we were still eating—literally still putting fork to plate) and worse, insulted a friend who has special dietary needs. He was about two seconds away from me asking to see his superior. He even served one of our Bobs a hot dog that was still frozen in the middle.
We continue to be disgusted and disappointed by the music in the Martini Bar. On this cruise not only was it offensive in volume but we were "treated" to a song featuring the racist N word repeated numerous times which we reported to an officer. This music needs to go. PLEASE. At least before dinner at early seating. The average age of the cruisers in the Martini Bar at the same time as us was around 55-70. I am not sure who the thump-thump music is for. How about some Sinatra or maybe Adele, at a low enough level you can hear the people in your party who are sitting next to you.
The photo gallery sucks. There is no other way to say it. If you haven't been aboard for a while you will be thrilled to know that they have stopped printing a multitude of photos and hanging them on a wall. The area taken up by where the photos used to hang is now all rip-off art auction (and it is a rip off). Now when they take your photo, they ask your room number, put it in the computer and it is supposed to show it on your TV screen in your cabin. I say supposed to because not one of us (all 16) could access that screen from their cabin. There are also monitors in the current photo gallery which is in this tiny space next to the casino. You swipe your seapass and you get to see every photo you are in (using facial recognition). Well that worked a little better than the cabin TV but we still could not see the two photos that we had taken when we came aboard. In fact, I went to the photo gallery every single day of the cruise and the people working there promised to find it for me. I told them it would be easy. It would be 16 people trying to make stupid faces. I even told them when we came aboard (approximately) and yet they couldn't find it. They did find photos that were not us of a couple kissing and attached it to our room.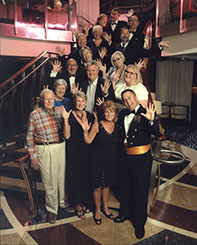 Then on the last night we had a group shot taken (see it at right) and when we went to look at it, it did not show up on the screens either. We were informed that if there were more than 12 people in a photo, they would only print them and they would not sell them digitally because they were afraid that those in the photo would just share the digital photo. But as we were looking through the actual photos (in a pile behind the cash register) to find ours, we met a guy who had been on our Cruise Critic roll call and we realized he was one half the of kissing couple on embarkation that had shown up on our photo screen. He said they had come on board right behind us and using the number from that photo, one of the guys in the photo studio was finally able to find us (on the last day of the cruise!!) But here's what really ticked me off. When he finally found it, the guy said, "Oh, you should have told me there were 16 people in the photo. We never post those." The thing was, I had. Every single day. This new system is not working.
On top of that, while we were there a gentleman came in who had been in a HUGE family photo taken the night before, right before our group. He asked to see the shot which had more than 35 people in it. He asked if it was included on the "digital package" he had purchased which was unlimited digital shots he was in for more than $300 over the entire cruise. They told him that this shot was not included because there were too many people in it and that they could sell him prints at $20 a copy. He said he needed 25 prints and was very upset that it wasn't part of the digital package. Apparently he had never heard of a scanner because he ended up with an additional $600 in prints. Sorry folks, but that is highway robbery. This is just wrong. How much do they need to bleed you in the photo gallery.
All this disorganization and their photos are just not that good. Look at our group shot and note the huge reflection in the glass above our heads. They had a gigantic reflector light set up exactly opposite that piece of glass so every picture they took in that spot that night has that blown out area. Are you kidding me? High school kids could do better and these are supposed to be professionals. Enough said.
As I mentioned before, we were also very disappointed that on our last night in Victoria, those of us who chose to stay aboard found many of the bars and lounges closed, our regular dining table not available. This is unfair to those of us that you would like to keep coming back. This was our fifth cruise to Alaska (4 on Celebrity) and we live in the NW and really did not feel the need to get off in Victoria.
Lastly we had a VERY disconcerting thing happen in the main dining room on the last "evening chic" night. As I mentioned above, our party had chosen to dress up in tuxes and nice dresses for the ladies (group of 16 seated together). We were fine with the fact that others did not. What we were NOT fine with was the fact that as we were finishing up our dinners a party was escorted to the next table dressed in their cabin's bathrobes. Yes, they had clothes on under them, but when they were next to our table they made some very obnoxious remarks about how did we like their formal dress? The very idea that the maître d' seated this bunch dressed in bathrobes defies our experience with Celebrity. This should NEVER happen. We were insulted by the fact that Celebrity would let it happen.
Disembarkation
This was the worst part of the cruise. Not because of any problem with getting off the ship. In fact the whole process was one of the best we have ever done. The reason I said it was the worst part of the cruise is that as every cruiser knows, getting off a ship is the worst day of any cruise. We loved every minute of it, have two more X cruises booked and can't wait to go back.
Let me sum up
This was a great cruise. We had a great time. We were treated well. We loved seeing our friends but there are some things that need to change about Alaskan ports and Celebrity.